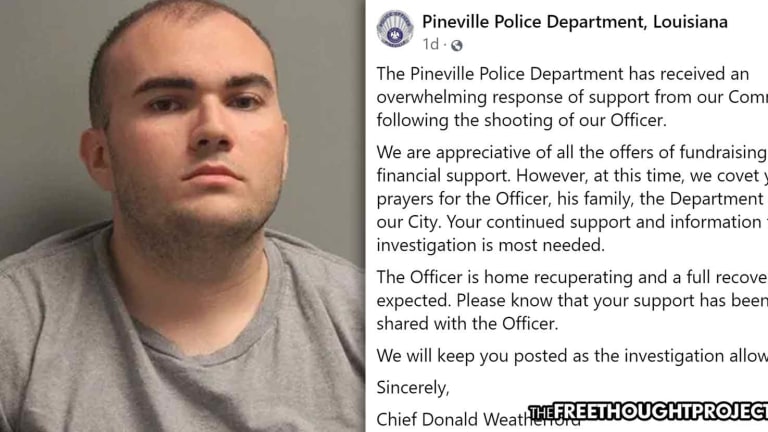 Cop Shot During 'Ambush', Arrested Because He Actually Shot Himself and Made it All Up
After the story of the ambush of a cop went viral, investigators found holes in the officer's story and quickly realized he faked the entire thing.
Pineville, LA — Over the weekend, citizens of Pineville, Louisiana and the rest of the country were shocked as headlines across the internet reported that a Pineville Police Department officer was the target of an ambush and was shot. The
[0]=AZUKVwUNu9WP7ilwWxZOZfQ7qT9iYAUfsW3EgCFm6e8hQ2PRa24WyWylDNfYSM8U6uMoKNyTCVw4W97yleWE9X0VhrbkGTmgGUr9ckStT27_cEEOFFTY-EGh17OFvOekIVBrIJ9WB9jnMPiMCxAHAaAFC1WSTPd0JX8E_G099Br-ssdk5ObLsrp9bsK9A805o24&__tn__=%2CO%2CP-R" target="_blank" rel="noopener noreferrer">blue line supporters came out in full force driving home the narrative that there is a war on cops. However, after police began investigating the incident, they quickly found out that no attack ever happened.

[0]=AZUKVwUNu9WP7ilwWxZOZfQ7qT9iYAUfsW3EgCFm6e8hQ2PRa24WyWylDNfYSM8U6uMoKNyTCVw4W97yleWE9X0VhrbkGTmgGUr9ckStT27_cEEOFFTY-EGh17OFvOekIVBrIJ9WB9jnMPiMCxAHAaAFC1WSTPd0JX8E_G099Br-ssdk5ObLsrp9bsK9A805o24&__tn__=%2CO%2CP-R
On Sunday, police announced that they were offering a cash reward for any information that led to finding the alleged shooter who ambushed Officer John Michael Goulart Jr., 25. According to the original police report, the officer was shot while getting out of his police car at a shopping center at about 11:20 p.m. A second shot hit the officer's patrol unit on a rear door.
On Monday, police told the press that the officer had been treated for his non life-threatening injuries and was resting at home. Deputy Chief Darrell Basco urged anyone with information to call crime stoppers and offered up $5,000 as an incentive.
Basco who is the Pineville Public Information Officer, said this based on these claims: "There were shots fired at the officer. The officer didn't return fire on anybody. He was exiting the patrol vehicle at the shopping center whenever he was ambushed by an unknown person at this time and two shots were fired. One striking him, and the other hit the vehicle."
On Tuesday afternoon, however, officer Goulart's "ambush" story began to fall apart. Investigators realized there was no ambush and officer Goulart shot himself in the leg. Just before 5 p.m. on Tuesday, Goulart was arrested for faking his own ambush. He was booked into the Rapides Parish Detention Center on one count of criminal mischief and one count of malfeasance in office.
He then posted the $10,500 bond and was released.
When police announced Goulart's arrest, the department said an "investigation led to a determination that the officer shot himself, concealed and altered the facts."
They said nothing else about the incident nor why the officer decided to fake an ambush on himself.
While instances like this one may seem outlandish, the fact is that TFTP reports on them regularly.
Just two months ago, the Fauquier County Sheriff's Office issued an alarming statement titled in all caps: DEPUTY ATTACKED - FOUND UNCONSCIOUS ON ROADSIDE. It read like a movie script, claiming the deputy was off-duty and on his way home when he selflessly stopped to clear some debris out of the road and was suddenly attacked.
A Fauquier County Sheriff's Deputy was found unconscious on the roadside by a passerby after being attacked by occupant(s) of a passing vehicle. The attack occurred on Friday night, July 10, 2020, at 7:10 p.m. on Old Waterloo Road at the intersection with Wilson Road outside of Warrenton.
But all that was a lie, and the department was forced to backtrack after realizing it was a fake ambush.
Fauquier County Sheriff's Deputy Jake Preston Dooley, 22, was subsequently arrested and charged with falsely summonsing law enforcement and obstruction of justice after the Fauquier Sheriff's Department "thoroughly and vigorously investigated" his claims and found them false.
Apparently, the deputy went so far as to hit himself in the head to fake the attack and was even hospitalized. Amazingly enough, it only took the department 24 hours to realize Dooley was lying. Sheriff Mosier then thanked the community for their outrage in the cop's fake attack, and noted how horrible it made them feel.
Also, in January of this year, TFTP reported on the fabricated story of how Los Angeles Sheriff's Deputy Angel Reinosa was shot in the shoulder by a sniper as he walked from his patrol car into the station. A massive manhunt ensued as heavily armed deputies in military attire set up a perimeter and locked down the area but it would all be in vein. Reinosa was arrested because he made the entire thing up.
Less than a week later, another cop in Ohio was arrested for doing the exact same thing! On January 13, approximately 50 officers from ten different departments combed a prominently black neighborhood looking for a non-existent suspect. This swarm of cops was reportedly detaining innocent people, pulling over others, and shaking up an entire community. All of this chaos and rights violations were because Warren Police Officer Noah Linnen falsely claimed he'd been involved in a shootout with a black man in a black SUV.
Apparently, the "black SUV" is the go-to vehicle for cops faking attacks on themselves.
TFTP has reported on dozens of these instances over the years in which cities were locked down and massive manhunts violated the rights of innocent citizens — all because of cops faking ambush attacks. What's that saying about the boy who cried wolf?