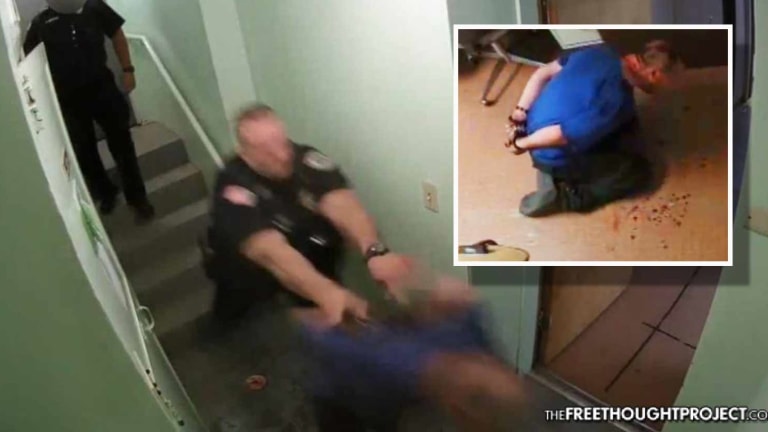 WATCH: Cop Blows a Fuse, Shoves Handcuffed Man into Concrete Wall, Breaking His Vertebrae
Video of an Oregon cop shoving a man into a wall was so bad, and the man so severely injured, that the officer was actually arrested and found guilty.
Milton-Freewater, OR — In the land of the free, you are ostensibly presumed innocent until proven guilty. Even when in jail for an alleged crime, you still ostensibly have your Eighth Amendment right, declaring that "Excessive bail shall not be required, nor excessive fines imposed, nor cruel and unusual punishmentinflicted." However, as the case in the video below illustrates, an Oregon man learned the hard way that many cops couldn't care less about the constitution or your rights.
Surveillance footage has just been released in a police misconduct case involving a Milton-Freewater cop and a man who had yet to be convicted of a crime. KEPR news obtained the footage which shows a cop severely injure a defenseless handcuffed man by shoving him face first into a concrete wall.
KEPR said a citizen came across the video and shared it with them to get this information out. The video shows Officer Brian Scott, who had just arrested 46-year-old Jeffery Allen Fields for theft, and was taking him to the Milton-Freewater police station for processing Sept. 26, 2016.
As the video begins, we can see that Fields is entirely compliant. He is on his knees, complying with the officer's commands, and then stands up and walks into the jail — just like he was told.
As they are walking into the jail, Scott and Fields exchange a few words, however, it does not appear that Fields is attempting to be combative in any way. Once they reach the bottom of the stairs, Scott proceeds in break his oath to the constitution and enact cruel and unusual punishment against a defenseless handcuffed man.
The officer, apparently angered at the fact that Fields is now bleeding all over their jail, then drags the severely injured man into another room. In this room, he bleeds out for several moments before Scott comes back in to hold paper towels against his head.
When paramedics arrived, Fields was rushed to the hospital because of the severity of his injuries. He had massive lacerations on his scalp and broken vertebrae.
The assault was so bad that Scott was actually arrested shortly after. He was held on a $55,000 bond for second-degree assault and official misconduct but quickly released.
The video was kept secret for a year after Scott first appeared in court. To make matters even more insidious, the details of Scott's case were kept secret and the proceedings were held behind closed doors.
In April, two days after pleading not guilty, Scott pleaded guilty but arranged a deal with the court that made sure he will not spend a single day in jail.
As the East Oregonian reports:
Umatilla County Circuit Court records show Scott, 38, pleaded guilty to one count each of third-degree assault and first-degree official misconduct. The plea came after a settlement conference in Hermiston circuit court.

Misconduct is a misdemeanor, but the assault conviction is a Class C felony in Oregon.

***

Circuit Judge Eva Temple presided over the closed-door conference and sentenced Scott to three years of probation, which bans him from possessing weapons, firearms or dangerous animals and mandates he must not have any contact with Fields.

Scott also will have to undergo an anger management evaluation and complete any treatment through a court-approved provider, complete 100 hours of community service and pay a fine of $500.
The only good thing to come out of this case is the fact that after he pleaded guilty, Scott was given 30 days to relinquish his police certification from the Oregon Department of Public Safety Standards and Training. At least, in Oregon, this man won't be able to wear a badge and victimize other defenseless people.
Below is the graphic video of what it looks like when angry maniacs are given badges and guns.
The walk into the jail starts about the 1:45 mark.