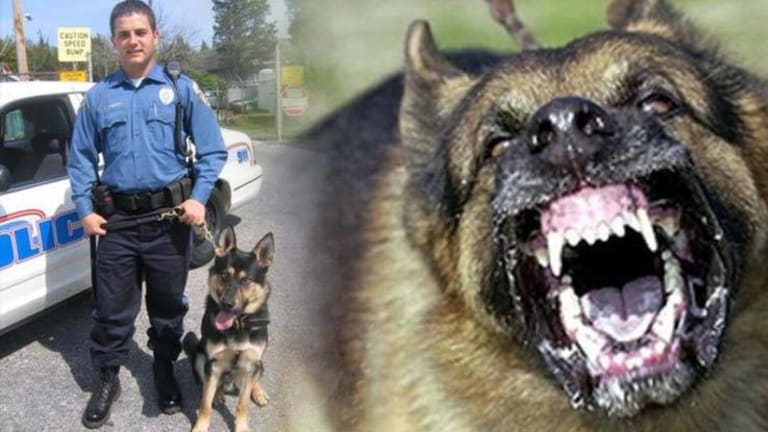 Sadistic Cop Forces K9 to Maul 59-Year-Old Woman Who Was In Custody - Then He Covered it Up
Pulled from her car and violently thrown to the ground, a 59-year-old woman recently sued the cops responsible for attacking her with a K9.
Trenton, NJ – Pulled out of her car and violently thrown to the ground during a traffic stop, a 59-year-old woman recently filed a federal lawsuit against the K-9 officer responsible for releasing his police dog, which attacked the unarmed woman while she was already in custody. Although the charges against the woman were eventually dropped, the K-9 officer has been charged with official misconduct, aggravated assault, false swearing, tampering with public records, and hindering his own apprehension.
On January 29, 2014, Tuckerton police Cpl. Justin Cherry and another officer responded to a residence where Wendy Tucker was reported as an unwelcome guest. After agreeing to leave, Tucker said she would take the bus home due to the fact that her license was suspended. But shortly afterward, Cpl. Cherry observed Tucker driving and attempted to pull over her vehicle.
Asserting that she was distrustful of the Tuckerton police officers, Tucker did not immediately pull over and instead drove to the municipal complex in Barnegat before stopping her car in the parking lot. While in the custody of Barnegat police, Tucker remained sitting in her vehicle when Cherry and other officers dislocated her left arm by roughly pulling Tucker out of the car and throwing her to the ground. Although Tucker was unarmed and not posing a threat, Cherry allegedly sicced his K-9 partner, Gunner, on her without justification.
After Cherry's police dog reportedly took a bite of her right shoulder, Tucker was charged with eluding police, resisting arrest, and driving on a suspended license. The charges against her were later dismissed.
Last year, Cherry was charged with official misconduct, aggravated assault, false swearing, tampering with public records, and hindering his own apprehension. Instead of simply allowing Barnegat police to take Tucker into custody, Cherry has been accused of using excessive force and covering up his abuse by writing false police reports. Although the dash cam video from Cherry's patrol car reportedly captured footage of the brutal incident, Ocean County Prosecutor Joseph Coronato is fighting to keep the video suppressed.
While a cowardly panel of judges with the Appellate Division of Superior Court sits in silence, refusing to arrive at a decision, Coronato defends the blatant lack of transparency by stating that releasing the dash cam video to the public would deem it impossible for Cherry to get a fair trial. Video evidence cannot be excluded because it makes the defendant appear guilty. Especially when the defendant is a cop, and the prosecutor routinely works with police.
Despite the fact that Superior Court Judge Vincent Grasso ruled that the dash cam video was a public record that fell under the requirements of New Jersey's Open Public Records Act (OPRA), Coronato filed an appeal and refuses to release the footage of the attack to the public. By building a wall of secrecy, the police and the prosecutor have merely confirmed their reckless abandonment of justice and transparency. They have traded the public's trust in order to defend an officer responsible for attacking a helpless woman without provocation.
Besides naming Cherry in her recent lawsuit, Tucker also accused Tuckerton Police Chief Michael Caputo and Barnegat Police Chief Arthur Drexler of failing to track complaints of excessive force by their officers or properly train them. She also blames the unidentified officers who witnessed the attack and did nothing to stop Cherry from using excessive force on her.
Cherry has filed a cross-complaint against the same police chiefs for any role they may have played in the damages suffered by Tucker. According to Cherry, he is not responsible for any injuries inflicted on the unarmed woman who was already in police custody when he ordered his dog to attack.