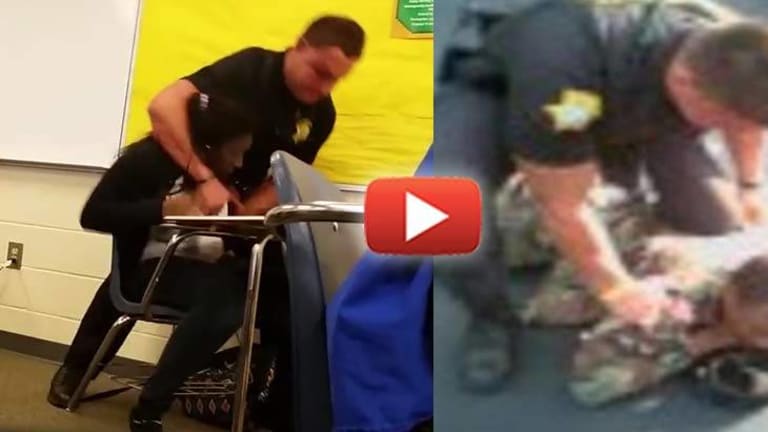 Same Cop Who Attacked School Girl Also Caught Assaulting Army Vet in Similar Takedown
The cop caught on video attacking a young girl is no stranger to brutality. He's been caught before, yet remained on the job.

Richland County, SC -- Notorious for grabbing a high school girl by the throat on Monday and throwing her to the floor, Richland County Deputy Ben Fields was sued in federal court after assaulting a soldier stationed at Fort Jackson, South Carolina. In a separate lawsuit scheduled for trial next year, another student accused Fields of recklessly targeting black students with false allegations of gang affiliation.
On Monday, several Spring Valley High School students uploaded cellphone videos of resource officer, Deputy Ben Fields, lifting a student seated in her desk and throwing her to the ground before dragging her away. In a ">video posted by YouTube user Reginald Seabrooks, the description explains that Fields was called into the classroom after the girl refused to put her cellphone away.
Ordering the girl to get out of her seat, Fields asks her, "Are you going to come with me or am I going to make you? Come on. I'm going to get you up."
Without giving her time to stand up, Fields escalates the situation by grabbing her left arm while placing his right arm around her neck. After lifting her desk, Fields slams her to the floor and into the desk of a girl sitting behind her. Fields rips the high school student from her desk and drags her along the ground before handcuffing her.
In a separate video, Fields can be heard threatening another student, "I'll put you in jail next!"

According to Richland County Sheriff's Department spokesman Lt. Curtis Wilson, the female student and a second female student were charged with disturbing the peace at school. Pending an investigation with the sheriff's department, the district has directed Fields not to return to any school in the district. He has been placed on administrative duty.
"There is no justification whatsoever for treating a child like this," said Victoria Middleton, executive director of the ACLU of South Carolina. "Regardless of the reason for the officer's actions, such egregious use of force – against young people who are sitting in their classrooms – is outrageous. School should be a place to learn and grow, not a place to be brutalized."
Immediately after the incident, several former and current students flocked to Twitter accusing Fields of slamming numerous students over the years before finally getting caught on video. According to one student, she witnessed Fields slam a pregnant student in 2012.
"Student safety is and always will be the District's top priority. The District will not tolerate any actions that jeopardize the safety of our students," Superintendant Dr. Debbie Ham wrote in a statement. "Upon learning of the incident, school and district administrators began an investigation. We are working closely and in full cooperation with the Richland County Sheriff's Department to conduct a thorough and complete investigation."
On October 24, 2005, Carlos Martin was returning home from work at the Moncrief Army Community Hospital at Fort Jackson when he saw Deputy Fields driving his patrol car in the parking lot. Responding to a noise complaint, Fields confronted Martin for playing the music in his car too loud and asked if he was the reason for the complaint. As Martin explained that he had just got home from work and had not been there long enough to cause the complaint, Fields apparently snapped when Martin referred to him as "dude."
After slamming Martin to the ground, Fields began kicking him and emptying an entire canister of pepper spray into the soldier's face. While witnessing the assault, Martin's then-wife, Tashiana Rogers, ran into the parking lot and began taking photos of the crazed deputy attacking a restrained soldier wearing fatigues. Ordering his partner to "get her black ass," Fields had the couple arrested and seized her cellphone before deleting the pictures.
As Martin told Fields that he planned to file a lawsuit against him for using excessive force, the deputy responded, "I'm glad Johnny Cochran is dead."
Although the charges were dropped against Martin and his ex-wife, his lawsuit was later dismissed because they could not prove Fields had used excessive force while making derisive and suggestive comments to Tashiana. After his ex-wife took her lawsuit to court, the jury ruled in favor of the sheriff's department.
In 2013, a student named Ashton James Reese was expelled from Spring Valley High School for unlawful assembly of gang activity and assault and battery for allegedly participating in fight in a Walmart parking lot. Although Fields did not respond to the incident, he led the investigation and described it as a "huge gang fight."
Reese filed a lawsuit against Fields for falsely accusing him of being a gang member and for recklessly targeting "African-American students with allegations of gang membership and criminal gang activity."
The trial is scheduled to begin on January 27, 2016.