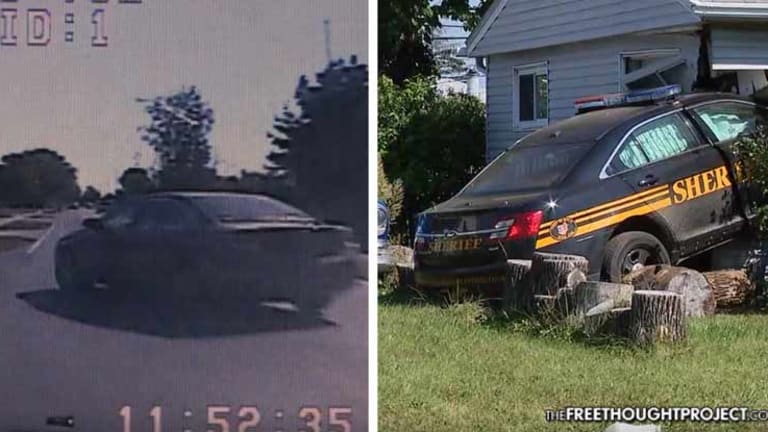 WATCH: Cop Drives 80mph in Neighborhood, Hits Elderly Lady, & House, Charges Her With Crash
An Ohio cop nearly killed an elderly woman while traveling at a dangerous speed through a neighborhood and now the innocent woman is being charged.
Columbus, OH — Joan Raye, 78, is lucky to be alive after a Franklin County Sheriff's made the dangerous decision to speed over 80 mph through a neighborhood and plowed into her vehicle. In spite of the fact that the deputy hit her, however, this poor elderly woman is now being charged with a crime for his negligence.
According to the sheriff's department, Raye failed to yield to the deputy who was traveling well above the posted speed limit on his way to an officer in distress call. The deputy's concern for his fellow brother in blue appeared to clearly outweigh the safety of the countless families and bystanders he put at risk driving at such a high rate of speed through the residential area.
Because the deputy was traveling at such a high rate of speed, the elderly woman did not see or hear his lights and sirens and when she saw the chance to take a left turn onto her street, she did.
"The civilian car did not pull over but instead began to make a left turn as the cruisers were attempting to pass," Public Information Officer for the Franklin County Sheriff's Office Marc Gofstein said.
"It got clear. I could go. Then he hit me in the side," Raye said. "It's a wonder I wasn't killed."
Because the deputy was driving so fast, he was unable to avoid crashing into Raye's vehicle. Had he hit her car a few inches back, Raye would've been killed.
"It's a wonder some kid wasn't killed," Raye recalled.
Being that the deputy was in a residential neighborhood with small streets, after he smashed into Raye, his cruiser was still moving so fast that it slammed into a family's home. Fortunately, he did not kill a child or anyone else.
Now, because this deputy made the dangerous and almost deadly irresponsible decision to speed through a neighborhood, in a likely move to protect him, the sheriff's department charged Raye with the crash.
Raye is now being charged with failing to yield and is facing costs of over $50,000 and may even go to jail.
"I'm worried that I'm not gonna have enough money and that I don't lose my house," explained Raye, who noted that her husband is in a nursing home.
But Raye is not going down without a fight. She plans on challenging the charges and claims that it was the deputy who put the lives of countless children and innocent bystanders at risk by driving so fast through an intersection.
She has a good chance of winning too. As WSYX reports, the Franklin County Sheriff's Office guidelines on emergency runs do not list a cap on speed, but deputies are instructed to slow down at intersections.
As TFTP previously reported, a shocking report showed just how dangerous being an innocent bystander can be when there is a police chase going on.
On average, according to the report, one person every day is killed during a high-speed chase.
To put this into perspective, that's larger than the number of people killed by floods, tornadoes, lightning and hurricanes -- combined.
Contrary to popular thinking, high-speed chases aren't only dangerous for those involved. Innocent bystanders are all too often the victims of these reckless pursuits.
According to the report, more than 5,000 bystanders and passengers have been killed in police car chases since 1979. Tens of thousands more were injured as officers repeatedly pursued drivers at high speeds and in hazardous conditions.
Aside from the 5,000 completely innocent lives lost, an additional 6,300 fleeing 'suspects' were also killed, bringing the total to 11,506 dead since 1979. Even this shockingly large number is likely an understatement, according to the report. The Department of Transportation's National Highway Traffic Safety Administration (NHTSA) uses police reports to determine if a crash is chase related, and many of the reports do not disclose that a chase had occurred at all.
Joan Raye nearly became one of those statistics.