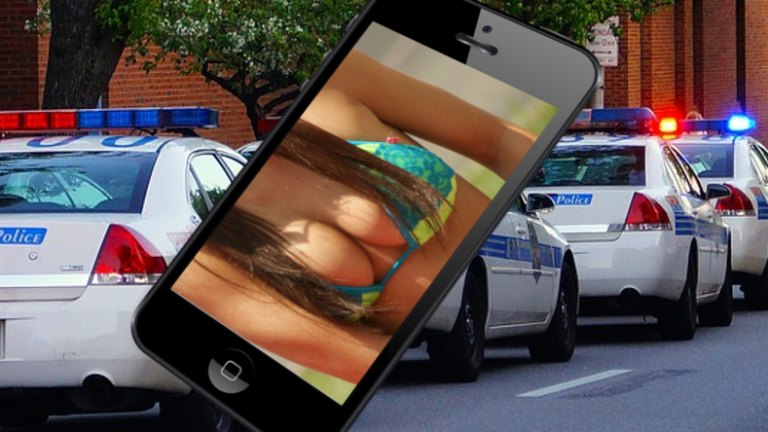 Cop Arrests Woman for DUI, Then He Steals Nude Photos from Her Phone

California Highway Patrol officer Sean Harrington, of Martinez, California is accused of forwarding nude photos of a DUI suspect from her cellphone to his, while she was locked up in a holding cell.
According to a spokesperson for the CHP, Harrington is still on the police force, but he has been reassigned to desk duty while the accusations against him are being investigated. Just this week, prosecutors suggested that they have enough evidence against Harrington to go to trail.
"We've been investigating this for quite some time, the investigation is coming to a conclusion and we expect to make a charging decision this week," deputy district attorney Barry Grove said in a statement on Wednesday.
According to investigators, Harrington searched a 23-year-old woman's phone after he arrested her for a DUI and discovered six explicit photographs. Harrington then forwarded the photographs to himself, and the victim suspects that he shared the photos with other officers.
Harrington did attempt to erase the record of the media transfer, and the transfer was locally deleted from her phone. However, a record of the woman's iCloud account showed that her explicit photos were transferred to another number while she was in custody. She then discovered that the number belonged to her arresting officer.
Rick Madsen, the attorney who will be representing the unnamed victim said that his client was traumatized by her arrest and the following experience.
"We think it's a horrendous breach of the public trust. We believe Officer Harrington committed a clandestine and illegal intrusion into her privacy which is unspeakable considering his sworn duty to protect the public. My client remains understandably distraught as we await further information about who else may possess the photos and what further investigation may uncover," Madsen said.
Last week, investigators served a search warrant at Harrington's home and confiscated his iPhone 5S and Apple laptop containing photographs, text messages and instant messages from the woman's phone, according to the search warrant.
"We're confident that the Contra Costa District Attorney's Office is committed to determining the scope of this matter, but it's clear it's not isolated to one victim or one particular officer because we believe multiple search warrants have been served. As humiliating as this has been to my client, she came forward to prevent the same indignity from ever occurring again," Madsen said.
John Vibes is an author, researcher and investigative journalist who takes a special interest in the counter culture and the drug war. In addition to his writing and activist work he is also the owner of a successful music promotion company. In 2013, he became one of the organizers of the Free Your Mind Conference, which features top caliber speakers and whistle-blowers from all over the world. You can contact him and stay connected to his work at his Facebook page. You can find his 65 chapter Book entitled "Alchemy of the Timeless Renaissance" at bookpatch.com.