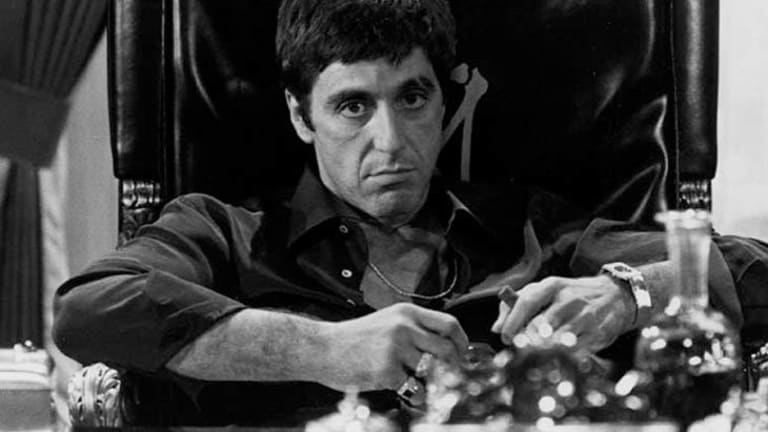 'Scarface' Memorabilia Theft During Drug Raid Exposes a Crack in the Blue Wall of Silence
Cops don't rat on cops....it's that simple. Unless there is some "Scarface" memorabilia involved.
Detroit, Michigan - An unnamed police officer has been accused of stealing memorabilia from the movie "Scarface" during a high-profile drug raid.
Interestingly enough, the officer was actually turned in by another cop who was on the scene and witnessed the theft.
The officer was arrested by Internal Affairs investigators this week and is now the subject of an internal investigation. According to the police department, the officer is accused of stealing a Scarface shadow box that contained bullets which were actually fired during the filming of the movie.
"He's been suspended, and the allegations are under investigation.I want to acknowledge that it came to our attention because another police officer brought it to us. ... We applaud whenever an officer becomes aware of alleged misconduct and takes action," Detroit Police Chief James Craig told reporters.
Could the Detroit police department be turning over a new leaf? Will they start reporting their officers for all act of corruption?
Probably not. It's more likely that this incident started over a dispute of who was going to get the memorabilia. When one officer didn't get his way, he probably just turned the other cop in.
Along with the shadowbox, the police also stole large sums of money, drugs and firearms from the home, but all of that was legally sanctioned.
The Detroit narcotics division has become notorious for corruption and is currently under federal investigation for a number of unrelated incidents.
One Detroit narcotics officer, James Napier, recently killed himself when he discovered that he was being investigated for corruption by the FBI and Internal Affairs.
John Vibes is an author, researcher and investigative journalist who takes a special interest in the counter culture and the drug war. In addition to his writing and activist work he is also the owner of a successful music promotion company. In 2013, he became one of the organizers of the Free Your Mind Conference, which features top caliber speakers and whistle-blowers from all over the world. You can contact him and stay connected to his work at his Facebook page. You can find his 65 chapter Book entitled "Alchemy of the Timeless Renaissance" at bookpatch.com.