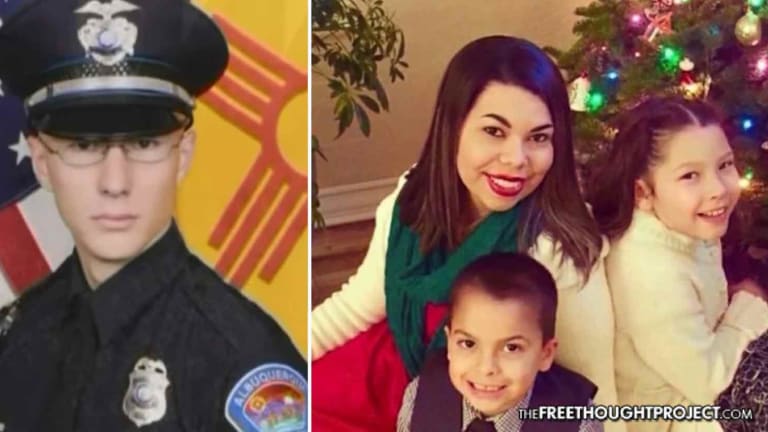 Cop Suing Mother of 6yo Boy HE KILLED, Because it Caused HIM "Emotional Distress"
An Albuquerque police officer is suing the mother of the child he killed when he sped through town going twice the legal rate of speed because it is causing him emotional distress.
Albuquerque, NM — It wasn't Albuquerque Police Officer Jonathan McDonnell's first accident. It wasn't even his second or third. It was his fifth. But when his police cruiser struck the car in which Antoinette Suina and her children were riding, this time, McDonnell's actions killed a child. But instead of sending condolences, incredulously, Officer McDonnell decided to sue Ms. Suina because killing her child caused him emotional distress.
McDonnell was responding to a call when he decided to travel double the speed limit in April of 2017. When the car in which Suina and her children were riding made a left-hand turn, they were t-boned by the officer. Suina's 6-yr-old son, Joel Anthony Mumaw, suffered grave injuries and died the following day. She said of her son:
He was in love and loved everyone.
The Bernalillo County Sheriff's office investigated the crash and determined he was going more than 80mph before slamming on brakes and slamming into Suina's car at 67mph.
The officer broke a leg in the accident and said in a lawsuit the accident has caused him "emotional distress" and strained his marriage and relationship with his kids. The suit is believed to be a response to Suina's own lawsuit against the police department and the City of Albuquerque.
McDonnell claims the accident has taken a toll on his family and says it was all Suina's fault to begin with. The lawsuit states the mother failed to yield to his emergency vehicle but the police department found no such fault with her driving.
On April 17, 2017, McDonnell says he was responding to a call about a man with a machete threatening another person who'd called police. The lawsuit states Suina failed to yield the right of way and the accident occurred.
The death of Suina's son was caught on camera and shows the officer's police cruiser plowing through the intersection and coming to a stop. The posted speed limit at the intersection of Indian School and Eubanks is 35mph.
McDonnell's squad car was traveling double the posted speed making the accident almost entirely preventable had the officer chosen a safe speed instead of excessively speeding through such a busy part of town.
Unfortunately, since 2008, McDonnell has been involved in five accidents the police department stated were preventable. Suina has hardly been allowed to grieve the fact her son is no longer living than the officer and his lawyers are dragging her into court.
Suina's attorney, Rachel Higgins, said her client was not cited or charged in connection with the accident which took the life of her child. "She was deemed by investigating police to not have made any driving error," Higgins said.
It's unclear if the city of Albuquerque is involved in any way such as putting pressure on the officer to sue. At any rate, not only did a New Mexico mother lose her child in a tragic and horrific car accident, the man, a police officer, is now suing her in a civil suit, attempting to get money out of a situation he caused.
There seems to be a disconnect between how the public views police officers who speed through town, and how officers consider their high rates of speed as being entirely legal and justified. Not only do they risk the lives of citizens by speeding to crime or accident scenes, but in some cases kill people when they do so.
It's not the first time TFTP has reported on speeding cops. And believe it or not, vehicular accidents are the leading cause of death for the 1 million sworn officers of the peace in the US. While police and police officers unions would like the police to believe there exists a "war on cops", there is no data to suggest such a phenomenon.
It's more dangerous for police officers who are responding in their vehicles to calls for backup, than it is for them to be confronted with someone suspected of being armed. From 2011-2015, 167 officers died in automobile accidents. Almost 50 percent (49%) of the officers killed in those automobile accidents died in single car accidents, their own, presumably from driving recklessly or going too fast.
The real question is what is the Albuquerque Police Department going to do now. If an average citizen had as many car accidents in a 10-year period of time, that person's car insurance would likely be so high the person would not be able to afford to drive. In McDonnell's case, the city's insurance pays for his misdeeds. But will they keep McDonnell on administrative duty or give him back his keys and let him go back to work? He's currently serving desk duty while he recovers from his broken leg injuries.