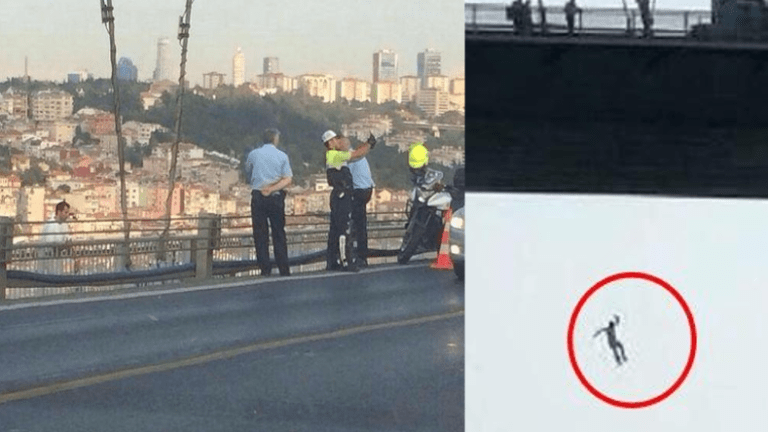 Cop Takes Smiling Selfie as Man Commits Suicide Behind Him
It is tragic to think that this man's final moments were spent watching this officer make a mockery of his pain.
Sadrettin Saskın, 35, overwhelmed by financial distress decided to take his own life by plunging into the Bosphorus Strait from the Bosphorus Bridge in Istanbul this week.
During his final moments, while other officers tried to offer him assistance and talk him out of it, one arrogant and heartless officer can be seen smiling for his own camera as the man clung to the bridge behind him before his 600 foot fatal fall.
It is tragic to think that this man's final moments were spent watching this officer make a mockery of his pain.
Police spokesman Calik responded to the incident saying "A full investigation into the officer's conduct is ongoing. Any breach of duty identified will be disciplined."
While we haven't seen any cop selfies quite this extreme, the police response to suicide and mental distress calls is just as troubling and callous here in the US.
Last Wednesday, John Rogers, of New Mexico, was unarmed as he was shot and killed by police. They had been called to the house by a family friend who feared he may be suicidal.
Earlier this month a man threatening suicide with a kitchen knife was met with a swat team, while a man in Florida began his lawsuit over police showing up and shooting him in the face- twice- when his wife called 9-11 begging for help calming him down. He was no danger to anyone but himself.
In July, we reported on seventeen-year-old Christian Alberto Sierra, who was suffering from depression which led to a full scale breakdown and attempted suicide. The police showed up and shot him four times, killing him. The heartbroken mother thought police would "save him, not finish him off".
What most departments do, or want to do, is have a group of officers who are highly trained for crisis situations and they're the ones who are supposed to be called in during these situations, at least in the US. Unfortunately, it seems that many times the first responders are not trained for crisis interventions or mental health, seemingly at all.
From the US to Turkey, there seems to be a massive problem with police insensitivity, criminal negligence, and in some cases, murder.