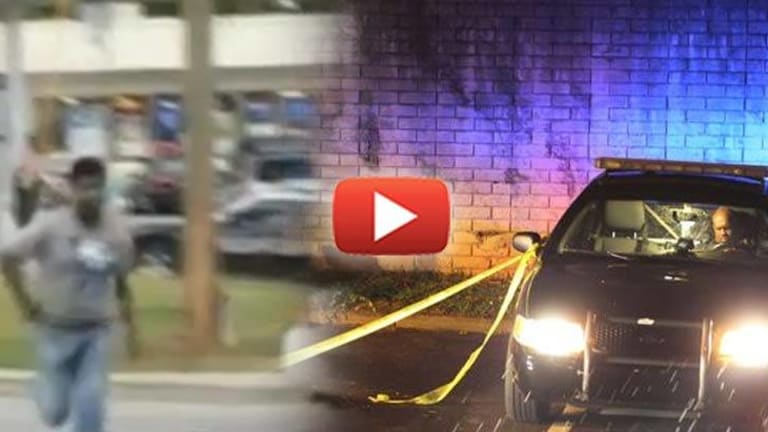 Cop Tasers Unarmed Man as He attempts to Climb a Wall, Causing him to Fall to his Death
For a young man from Georgia, running from the police was a death sentence.
Dekalb County, GA -- Another young man's life has been prematurely ended for attempting to run from police. This time, the man was tasered as he was climbing a wall, posing absolutely zero threat to the officer in pursuit.
The Georgia Bureau of Investigation is now reviewing the case after the young man died after falling to the ground.
According to the AJC,
Police were involved in a robbery suppression detail when they conducted a traffic stop near the Highlands of East Atlanta complex on Flat Shoals Road, DeKalb Assistant Police Chief Brian Harris said.

During the stop, an officer asked the driver to step out of the vehicle after he said he had a weapon. As the officer secured that weapon, the car's passenger fled, Harris said.

After a short foot chase, an officer used a Taser on the fleeing passenger as he tried to climb an 8-foot wall to get away, Harris said. The man fell over the wall. Officers then went to the inside of the apartment complex and handcuffed the man, who appeared to be unconscious, per police protocol, Harris said.
Multiple witnesses watched, including a 12-year-old boy, as the officer deployed the taser into the man as he attempted to get over the wall.
The 12-year-old boy's mother gave him permission to speak with Channel 2 Action News, but asked not to identify him.
"He fell and hit his head and then after that, this girl named Sheniya, her mother tried to see if he was still breathing," the boy told WSBTV.
According to witnesses the mother attempted to administer CPR to the unconscious man, but police would not let her.
"So I feel like if someone was here to perform CPR, they should allow her to do that," witness Natosha Davis said.
Part of the chase was captured on video by a man named Lewis Wright.
"When I got out the car, I hit record, and that's where it starts, you see him start running," said Wright. "I told him to stop, you know? Because a lot of stuff going on and I didn't want nothing to happen to him. He kept on running," Wright said.
The apologist crowd will rationalize this man's death by claiming that he shouldn't have run from the cops, and he may very well be alive had he not run. However, it is no guarantee that if you comply with police that you will be safe. A brief search through our archives will prove this fact.
Also, running from the police is a natural reaction for many Americans who live in poverty or impoverished areas of town.
In her book, On the Run: Fugitive Life in an American City, Alice Goffmann chronicles the six years she spent immersed in the Philadelphia neighborhood of "6th Street." In an interview with Alternet, Goffman explains why people choose to run from police:
It's a fact in America that in these poorer communities—and in largely African-American neighborhoods like the one I was in—you're much more likely to encounter a police officer. The level of police presence is just off the charts compared to similar white neighborhoods. So you have the increased likelihood of interaction, and the high probability that that interaction will not be good. Even if there's no arrest, there can still be a detention, a search, whatever, and who knows how long that's going to last? It means you won't be home to dinner tonight. Maybe not even tomorrow. It makes you not only fearful of police contact, but also of the places where the police might go to find you—your girlfriend's house, your kid's school, your place of employment.
Being stopped by police could be the difference between making it home to your family at night, or spending the next two years in prison because you have an illegal plant in your pocket.
We do not know why this man ran from cops, and we may never know. Thanks to an officer who shot him with a taser on top of a wall, this man will never have his day in court to prove his innocence or be proven guilty.
At what point does reasonable force become manslaughter?
The officer had no idea why this man was running but deployed the taser anyway, and now a man is dead. Is this what justice has become in the Land of the Free?