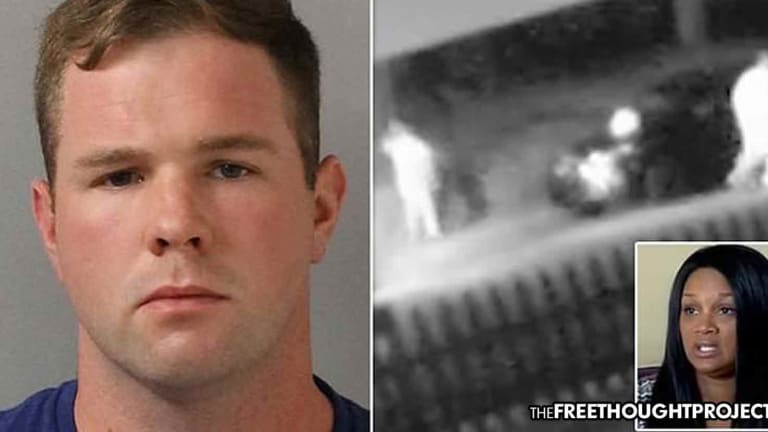 Court Forces Cop to Pay $1 Million in His Own Money to Family He Terrorized, Called Racial Slurs
An NYPD cop who terrorized an innocent family, calling them the n-word while holding them hostage, was ordered to pay them $1 million.
Nashville, TN — As the Free Thought Project has reported extensively, police officers, even when found at fault for their abusive actions, are almost never held personally liable. It is the taxpayers who foot the bill. However, a trend in accountability seems to be happening more often, and will be massively more effective at curbing police brutality than any system in place right now. Cops are being forced to pay their victims out of their own pockets.
The most recent case of a cop being held personally liable for his crimes comes from Nashville, Tenn. A now-former NYPD cop, Michael J. Reynolds has been ordered to pay $1 million by a federal judge for breaking down the door to an innocent family's home and terrorizing them in the middle of the night.
Federal Judge Eli Richardson mandated that Reynolds pay $1 million to Conese Halliburton for kicking in the front door and terrorizing her family, which was all captured on the family's surveillance cameras.
As the Tennessean reports, Halliburton said she was home with her sons when Reynolds kicked in the front door of her 12 South-area residence and barged in. Video surveillance showed Reynolds screaming and threatening the family and using racist slurs.
Reynolds can be heard saying in the video, "Try to shoot me, and I'll break every f---ing bone in your f---ing neck," before calling them "f---ing n------."
For over 8 minutes, Reynolds threatened to kill Halliburton and her two sons, all the while calling them racial slurs. He didn't leave until Halliburton told him that police were on the way.
When confronted by police, Reynolds' blue privilege kicked in and he laughed it off with cops, apologizing with a smile on his face.
"We are police from New York. You don't need to make a big deal about it. We were just drinking," said Officer Thomas Geberth, according to court testimony, during the confrontation.
Reynolds was not immediately arrested and only after public backlash was he held accountable — barely. For breaking into an innocent family's home, threatening to kill them, and effectively holding them hostage for 8 minutes, this cop received just 15 days in jail and did not lose his job.
He only resigned later due to national outcry that he was not fired.
"Ms. Halliburton promised from the beginning that she would hold ex-Officer Reynolds fully accountable for his criminal misconduct and obtain justice for her family regarding this despicable incident," said Nashville attorney Daniel A. Horwitz, who represented Halliburton. "We are certainly pleased with this development, but we also aren't finished here."
Though it is unlikely that Halliburton will ever see the full payment, this is s step in the right direction in holding bad cops accountable. Sadly, if Reynolds would have been on duty when he terrorized this family, it would have been swept under the rug and no one would have known any difference.
Halliburton created a GoFundMe online fundraiser earlier this year to help with legal costs, if you would like to help her out, please consider donating.
As TFTP has previously reported, although police officers being held personally liable is fairly rare, it is happening more and more.
Earlier this year, a Hadley Police Officer was sentenced to 14 months in prison and forced to pay a man $2,204 in restitution. In 2017, Hadley Police Officer Christopher Roeder broke a man's nose on video. He was found guilty of deprivation of rights under color of law, and falsifying his police report involving the 2017 arrest. As part of his sentence, he was forced to use his own money to compensate his victime.
Palm Beach County Sheriff's Deputy Adam Lin's case is another example of cops coming out of pocket to pay for their crimes.
In 2013, Lin spotted 19-year-old Dontrell Stephens in a "high-crime area" — the man's own low-income neighborhood — riding a bicycle in a manner the deputy found suspicious.
Lin stopped the youth, who dismounted the bike with a cell phone in his hand and slowly approached the officer. Just outside the range of dash cam video, the officer shot Stephens four times — claiming he was in fear for his life — but footage and evidence clearly showed the claim to be baseless.
Three of the bullets remain lodged in Stephens' body, according to the Sun Sentinel — two in his arm and one in his spine, which left him paralyzed and dependent on a wheelchair for mobility.
In 2017, Stephens won a massive $22.4 million settlement and U.S. Magistrate Judge Barry Seltzer ruled that Lin should foot at least a portion of the bill. Last month, nearly everything this officer owned was seized to pay back Stephens — including everything from his furniture to his clothing.
Lin will most assuredly think twice before shooting another unarmed teen.
Imagine, for a moment, the result of all police officers being held personally liable for their actions and forced to pay their victims. In nearly every other profession on the planet, if someone hurts someone else while on the job, they are held liable — personally. Why can't cops carry personal liability insurance just like doctors?
As instances of police brutality and police killings continue to be exposed, there is no doubt that the US is in dire need of reform. The simple requirement for police to be insured for personal liability is an easy fix -- especially to remove repeat offenders from the force.
All too often, when a tragic death such as George Floyd occurs, months later we find out that the officer should have never been given a badge and a gun in the first place because of their past. However, insurance companies, who can't fleece the taxpayers to pay for problem cops, would have to come out of pocket to pay for them and would make sure that these officers are uninsurable.
If the officer becomes uninsurable, the officer becomes unhirable -- simple as that.