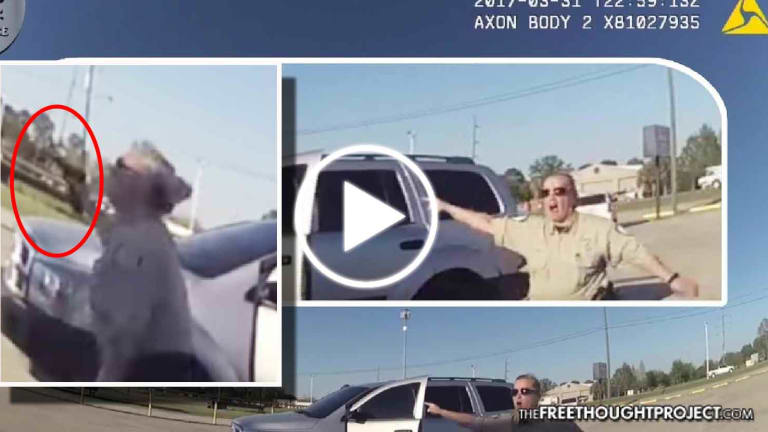 WATCH: Cops Do Nothing as Fellow Cop Snaps, Pulls Gun, Threatens to Kill Innocent Woman
A Lousiana female cop threatened to kill her sister in law over her mistreatment of her brother.
West Baton Rouge, LA — A Brusly Police Officer has resigned after body cam footage leaked on LiveLeak has surfaced revealing just how angry some police officers can become when police affairs involve personal relationships.
Cpl. Shellie Maranto can be seen flying like a bat out of hell into a gravel parking lot in her unmarked SUV police cruiser. She jumps out of the vehicle and begins her verbal tirade which also involved deadly threats.
No less than five times did Maranto declare she was going to kill another woman. She even took her service pistol out of its holster and pointed it at her. "I'm going to f__ing kill that whore," she kept repeating. "I'm going to f__ing beat her ass," she would also say. Clearly, the corporal had lost all sense of control, but what's the real story behind her manic rage?
The woman, whom the officer promised to kill, was actually a family member, her sister-in-law, who was apparently stepping out on her brother. The out-in-the-open supposed philandering of her sister-in-law was enough to throw the veteran police officer into a violent rage, the consequences of which are still being played out for all to see.
Maranto has resigned after evidence of her violent outbursts, death promises, and gun waving were released to the general public. The woman, who initially wanted to press charges, changed her mind after she reportedly said nothing would happen with any internal investigation. Apparently, the victim was right too — as Maranto, even though she resigned — has yet to receive so much as slap on the wrist for assault with a deadly weapon, felonious threats, and official oppression, all of which were caught on video.
It is also important to point out that while Maranto was committing all of these crimes, the cops who surrounded her did nothing to stop it. In fact, one officer can be heard laughing as Maranto brandishes her service pistol and aims it at her sister-in-law. Had Maranto not been wearing a badge, those officers would've likely killed her.
The incident took place on March 31, and was released to the public this week. Brusly Police Chief Jonathan Lefeaux said Maranto resigned instead of waiting for the firing party as the town was prepared to end her employment. Lefeaux said he had no idea what had transpired until after he watched the body camera footage. "She just lost her cool. It's a shame...She essentially, ruined her career," he said. He told reporters:
Unfortunately, incidents such as this are going to happen in any profession, no matter what type of controls are instituted to prevent them...We as police officers must honor today's society's calls for these matters to be handled swiftly and with 100 percent clarity to work toward bridging the gap of mistrust between police and the community.
The old adage states "blood is thicker than water" and such appears to the be the case of the angry sister-in-law cop who chose to threaten her brother's wife rather than quietly deal with personal family matters.
Marano was a 15-year-veteran of policing and had been at the Brusly Police Department for four years. It's unclear if she will pursue a career in law enforcement following the scandal. However, because she resigned and wasn't fired, she can still return to law enforcement as a career. It's unclear which police chief or department would take her on the force with the knowledge she's threatened one of her own family members with death.
As for our work at TFTP, we see certain patterns of behavior among police officers. First, they seem to bully the public into 100 percent compliance with their demands. Sometimes, officers like Maranto cease being demanding and cross the lines of behavior into criminal actions. We hope she never returns to law enforcement, and, instead, gets help for her emotional issues.