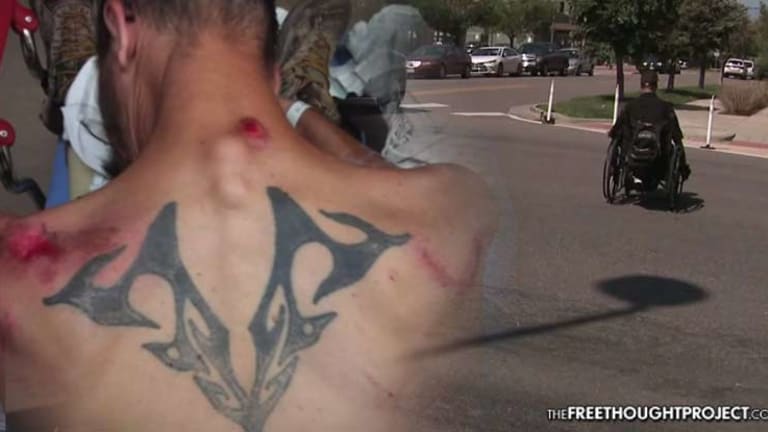 Cop Tickets Man in Wheelchair for Not Crossing Street Fast Enough—After an SUV Ran Over Him
A Denver cop issued a ticket to a man in a wheelchair because he didn't make it across the street in the time allotted by the signal and got hit by an SUV.
Denver, CO — A police officer in downtown Denver — who apparently has no idea what an officer's discretion means — cited a man for not crossing the street fast enough in a wheelchair. The disabled man is now fighting back.
Kyle Wolfe was legally crossing 19th Street in downtown Denver last month when he says the light changed before he could make it across. Just five feet from the sidewalk, Wolfe was then run over by an SUV.
Wolfe — who was injured during the accident and whose wheelchair was now totaled — was then issued a citation by a Denver police officer for disobeying a traffic signal.
But Wolfe says he didn't disobey anything, and he simply ran out of time.
"I was very shocked that a pedestrian that has the right of way got a ticket," Wolfe said.
How, exactly, the driver of the SUV didn't see a man in a wheelchair as they accelerated from the intersection, remains a mystery.
As FOX 31 reported, Wolfe said it takes him more time to cross because he's in a wheelchair. Plus, that day, he was carrying stuff in his lap and it kept slipping as he crossed the street.
"When you are moving, everything is falling. I need to pick it up. People don't want to stop," Wolfe said.
The city of Denver follows federal guidelines for timing crosswalks, which is 3.5 feet per second. The street that Wolfe was crossing only allotted the man 20 seconds to cross — a time, which he says, was not long enough.
"That is not fast enough for a handicapped person to get across a cross walk," Wolfe said.
When asked about the ticket by FOX 31, a Denver police spokesman said that Wolfe will have his opportunity to fight the ticket in court.
As Wolfe prepares to battle the Denver police in court, police across the country have been showing those in wheelchairs no mercy.
Earlier this year, the Free Thought Project reported that the police corporals of the Wilmington Police Department who fatally shot an already-wounded, wheelchair-bound African-American man, Jeremy McDole, in September 2015 will not be charged with any crime.
In spite of the killing being caught on video, none of the officers involved received any punishment.
As the Free Thought Project reported last month, police in Stayton, OR are under fire for what some have said is an insensitive and heartless arrest, after a video emerged showing their officers forcing a disabled man out of his car and aggressively shoving him face down on the ground.
In that instance, police claimed their officers were entirely justified when they attacked Robert Twede, who requires a wheelchair to move around.
Before Tweed, however, TFTP brought you the dramatic video of a Columbus cop allegedly dumping a woman out of her wheelchair, then turn around and walk away.
The incident reportedly happened at the Huntington Bank building at Senator Rob Portman's office during a health care protest last month.
Approximately 15 people were arrested during the protests while many others were physically removed.
Several videos were posted to Facebook of police forcefully removing protesters from the office -- many of whom were in wheelchairs. However, the video of the officer dumping the woman on the ground is by far the most disturbing.
In the land of the free, being in a wheelchair is no defense from some cops, who seemingly couldn't care less about individuals with special needs.