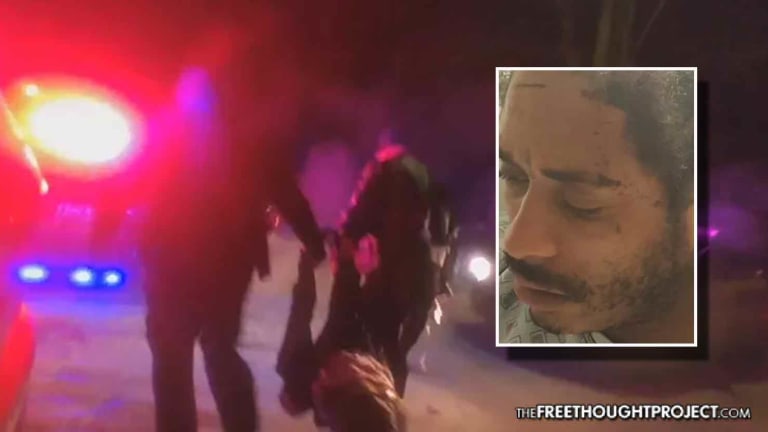 WATCH: Cop Turns Body Cam Away as Fellow Cop Starts Beating Handcuffed Man's Face
A police officer was caught intentionally turning his Body Camera so that it would not capture the scene as his colleague used excessive force on a handcuffed man.
Newly released body camera footage is giving insight into the incident that led to a police officer being accused of using excessive force for beating a handcuffed man while his fellow officers turned away—with one of them even moving his Body Cam so that it would not capture the assault.
Police in Louisville, Indiana, located a car that they claimed was reported stolen around 3 a.m. on Sunday, and when they attempted to pull it over, driver Ray Maurice Bard, 36, led them on a chase that ended when he crashed into a concrete garage, according to a report from the Louisville Courier-Journal.
Bard then fled the scene. He jumped over a fence and ran through a backyard, and when police caught up to him, they Tased him and put him in handcuffs. The report noted that when searching the suspect, officers found "a plastic bag filled with a variety of narcotics including seven grams of methamphetamine, four grams of heroin and four grams of cocaine, among others."
The footage from the body camera worn by one of the officers, which was recently released, is notable because it shows the officers' attitudes during the incident. The officer wearing the body camera is joking, chuckling and laughing maniacally throughout the video, showing that he knew Bard was not a dangerous suspect.
"It's the police! It's the police," the officer joked, telling someone who appears to be a nearby homeowner, "Yeah, man, he ran through your fence," before laughing again.
The officer continued to laugh and joke as he helped another officer lead the handcuffed suspect around the side of the house, to the patrol cars. "What's the matter?" the officer questioned when the suspect groaned in pain.
"Ta-Da!" The officer exclaimed when they brought Bard to the area where the car he was driving had crashed and other officers were waiting. Bard then tried to run from officers again, but he slipped on a patch of ice and fell.
The officer wearing the body cam continued to laugh maniacally as he watched the suspect fall, and other officers pounce on him and Tase him once again. However, the officer's actions are notable because instead of physically assisting his colleagues, he stood guard and angled his torso so that his body camera would not capture the scene as officers pounced on Bard, and he cried out in pain.
"Oh, why you do it to me?" Bard asked the officers after he was Tased a second time.
"Why did you run again?" an officer responded.
"You hurt my arm!" Bard shouted at the officers who tackled him.
"Well, stand up!" an officer replied.
"I can't," Bard said.
When Bard claimed he was unable to stand, the officers proceeded to drag him by his handcuffed arms back to the patrol car. As the officer wearing the body camera clearly tries to keep himself from filming the entirety of the scene, one of the officers strikes Bard across the face with his forearm.
"Videotape this shit," Bard is heard yelling, as he groaned in pain.
While there were multiple officers involved in the arrest, and it is unclear what type of conduct was used when Bard was on the ground, Sgt. Jason Tackett is now under investigation for striking Bard when he appeared to be complying with the officers and was not resisting arrest.
The Courier-Journal noted that Tackett claimed he "believed Mr. Bard was going to attempt to flee again on foot and I struck Mr. Bard to the right side of his head to prevent his escape, again."
Given the officer's excuse, it should be noted that at the time he hit Bard, the man was on his knees, with his handcuffed hands raised behind him, surrounded by multiple officers, and it did not appear from the video that he was making any attempt to flee the scene.
WDRB reported that after the incident, Bard was in need of medical care, and was taken to the hospital. He is now facing charges of possession of controlled substances, resisting arrest, criminal recklessness and reckless driving.
Tackett is a 12-year veteran of the Clarksville Police, and he has been placed on paid administrative leave, according to the report. In other words, Tackett's decision to physically strike a suspect has resulted in a taxpayer-funded vacation.