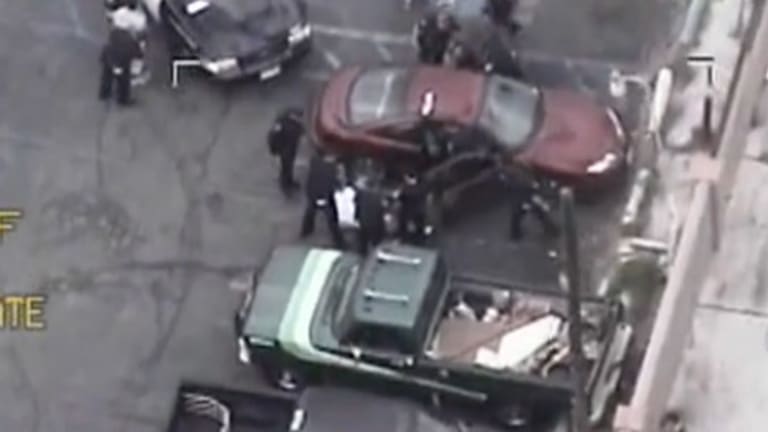 Cop Types in Wrong License Plate Number. A Nightmare for An Innocent Couple Follows
March 17. 2014
Police chopper video and a 9-1-1 recording capture an horrific event sparked by police incompetence and law enforcement's tendency to escalate violence.
A San Diego couple falsely detained, pepper-sprayed, and stung with a taser gun will receive $450,000 in exchange for dropping their case against the city and police officers who errantly flagged their Pontiac Sunfire as stolen after punching in the wrong tag number.
The incident occurred in March of 2010 as Harrell and then-fiancée Robinson were driving to Canada Steak Burger at 36th and University Avenue in City Heights.
According to court documents, officers Ariel Savage and Daniel McClain spotted the maroon Sunfire and ran the plates to check if it was stolen. One of the officers accidentally typed in the wrong plate number and the car came back as a Honda, not a Pontiac. They turned on their lights and pulled the couple over.
Before exiting the car, the officers realized their mistake. After typing in the correct numbers, the car came back clean. Yet, despite the new information, Savage and McClain continued with an investigation, asking the pair for identification and vehicle registration.
Realizing that they were dealing with an incompetent psychopath, the couple dialed 9-1-1. According to 10News, Harrell says she called 911 to ask for a supervisor after he was questioned by the officers, followed by 15 minutes of waiting.
In a summary judgment, the court ruled the officers made an illegal stop.
"He stopped me by mistake … pushed his button and my license plate came back as a Honda," said Robinson.
Harrell said the officers admitted to typing in a wrong letter during a routine license plate check, but wanted to check them out anyways. He said after the 911 call was made, the officers tried to grab the phone.
"I have your supervisor on the phone," exclaims Robinson in the 911 call. "I'm talking to your supervisor on the phone. Get your hands off me."
Harrell said what is not heard in the 911 call is what one officer said next.
"'They're on the phone with our supervisor, isn't that childish? I'm about to OC them,'" Harrell told 10News.
"OC" is another term for pepper spray.
About the same time, the 911 operator is heard saying a supervisor is on the way and attempts to end the call.
"They pepper-sprayed me," said Robinson on the call.
"Ma'am, you need to disconnect," responded the 911 operator.
"They pepper-sprayed me and my husband!" said Robinson.
Harrell said the two were pepper-sprayed before he was Tasered repeatedly. He said both he and Robinson were taken to the ground.
The phone, in the backseat, was still on recording the chaos.
Below is the original news story from News10's coverage with the recorded call. 
The $450K will be paid by tax payers and the department will remain unaccountable.