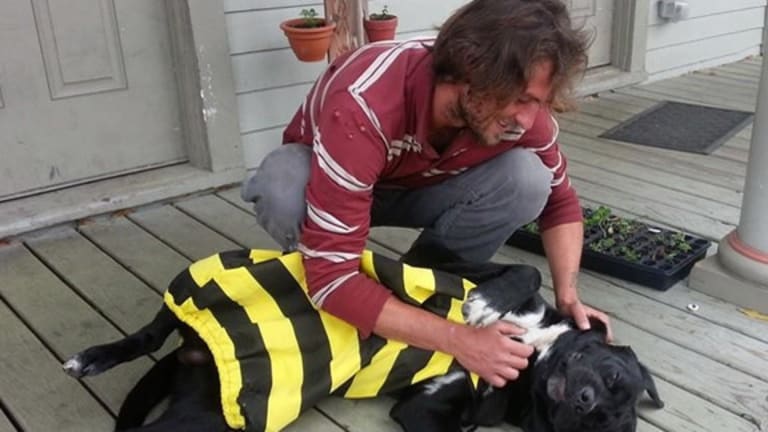 Cop Walks up to a Couple's Tied Up Dog and Shoots it in the Head for No Reason
May 2, 2014
On Monday April 28, 2014 while traveler Brandon Carpenter and a friend were traveling through Sulphur La on their way to Lake Charles, his dog was shot dead by a Sulphur Police officer.
Carpenter told KATC that he and his 21-year-old friend Logan Laliberte were traveling by train to visit friends in Lake Charles and were sitting about 7 a.m. in the parking lot of the Southwest Daily News. Carpenter said that an officer had been called to the parking lot as the two friends had taken refuge in a parked truck as rain fell around them. Arzy, Carpenter dog, was tied to a nearby fence.
Carpenter said he is extremely grateful to the paper's circulation manager, who told station KPLC that he takes issue with the story of the Sulphur policeman, who reportedly suggested that the dog bit him prior to shooting the dog. KPLC also reports that the eyewitness from the newspaper said he observed the officer playing with Arzi. According to KPLC, "the dog never growled or bared its teeth" and "never bit the officer."
Carpenter said that, in addition to watching his dog die, both he and Laliberte were arrested for trespassing and later released.
Carpenter also expressed outrage with the officer and vowed to take his story to national media "so everyone knows what this officer did."
One of the known warning signs of certain psychopathologies, including antisocial personality disorder, also known as psychopathic personality disorder, is a history of torturing pets and small animals, a behavior known as zoosadism.
According to the New York Times, "the FBI has found that a history of cruelty to animals is one of the traits that regularly appears in its computer records of serial rapists and murderers, and the standard diagnostic and treatment manual for psychiatric and emotional disorders lists cruelty to animals a diagnostic criterion for conduct disorders.
"A survey of psychiatric patients who had repeatedly tortured dogs and cats found all of them had high levels of aggression toward people as well, including one patient who had murdered a young boy."
Is it any wonder why so many cops shoot so many dogs?
A facebook page is setup for Arzi, here.  Also if you'd like to contribute to his campaign to hold the Sulphur Police Officer, Brian Thierbach, accountable for his actions you can do so here.