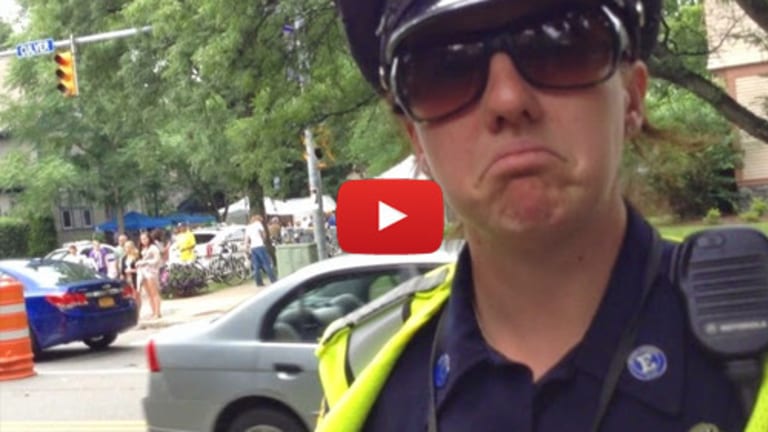 Thanks to this Cop Watcher, This Cop Will Think Twice about Texting While Directing Traffic Again
Rochester, NY Police officer Erin Rogers The Texting Cop, and The Right to Record (Video)
August 4, 2014
On May 16, 2009, just days before the birth of my daughter, I was hit by a car during Rochester, NY's Lilac Festival, and almost killed.
My head went through the car's windshield, and I was thrown in the air, landing about 40 feet away.
In addition to suffering a fractured left tibia, which required surgery and the insertion of a titanium plate, five screws, and a bone graft, I also had a badly dislocated thumb, head wound, internal bleeding, and multiple contusions.
I wasn't able to walk for nearly a year, and the physical therapy was grueling.
Perhaps even more disturbing than getting hit by a motorist who wasn't paying attention to his driving, was the fact that all this happened in front of two Rochester, NY Police officers.
Two police officers leaning on a festival barricade failing, who more interested in some meaningless conversation than in helping pedestrians cross a busy intersection.
In fact, had the two Rochester Police officers been attentive, not only to me, but to several other pedestrians! I would have never been hit by a careless driver.
Even more disgusting was what one of the Rochester Police officers said to me as I stumbled over to them for help, with only one sneaker on, and bleeding profusely.
"Dude get away from me, you're bleeding all over the place."
So, it's no surprise that if there's one thing I can't stand is when I see that a police officer who is assigned to assist pedestrians in crosswalks, is instead distracted, and not paying attention.
Enter Rochester, NY Police officer Erin Rogers, badge number 1755.
Sunday afternoon, while visiting Rochester's Park Ave. Festival, I observed officer Rogers, who was assigned to crossing pedestrians and traffic control at the intersection of Park Ave. and Culver Rd., texting.
At first I didn't think too much of it when I saw officer Rogers reach in her police shirt uniform's pocket, remove her bright pink encased cellphone, text, then insert it back in her pocket.
But then, with several festival goers waiting to cross the busy intersection, officer Rogers did it again.
She reached in her pocket, took out her phone, texted, then put it back.
Since I was leaving the festival, I continued to walk towards my vehicle.
As I walked, I just couldn't help but to think of my accident several years ago, and of all the innocent pedestrians whose lives and safety were being put at risk by Rochester Police officer Erin Rogersbeing distracted texting.
As I drove home, I decided to drive by the intersection, and I couldn't believe my eyes.
Rochester Police officer Erin Rogers was once again on her phone, texting away, as pedestrians were waiting to cross the intersection.
A distracted Rochester, NY Police officer Erin Rogers texting on her phone, while pedestrians wait to cross busy street.
Officer Rogers was completely distracted.
It was then that I chose to document RPD officer Rogers' actions.
I found a parking spot a block away, and walked over to the intersection.
Then, as I stood across the street and began recording and live steaming video, something very interesting happened.
Something that reminded me just how much work there's still left to do when it comes to educating both citizens, and police officers, on the first amendment right to record.
A woman, seen in the video below, wearing a purple top, is seen looking over at me, as I was standing across the street.
The woman is then seen talking to officer Rogers, and as I would soon find out, actually complained to Rogers about my video recording.
Ironic, since the woman obviously had no idea that not only was I exercising my first amendment right to record, but even more important, I was actually documenting officer Rogers putting the woman's life, as well as the lives of every other pedestrian at risk, with her compulsive texting.
Simply put, instead of worrying about me, the woman should have been concerned with officer Rogers, the texting cop, being distracted.
What happens next, which you can see for yourself in the video below, is very interesting to say the least.
Rochester Police officer Erin Rogers approaches me and asks me what I'm recording.
Make sure you watch the look on her face when I tell her that I'm recording her.
Priceless.
Seconds later, Rochester, NY Police officer Harnischfeger, which I want to say, was very courteous and professional, walks up.
Officer Harnischfeger gets it.
He not only understands citizens' first amendment right to record, he respects it.
And that says a lot.
Especially for a police department who just two years ago made international headlines, when Rochester Police officer Mario Masic, known on the streets as "Cowboy", violated Emily Good's civil rights when he falsely arrested her for video recording Masic conducting a racially profiled traffic stop of an African-American motorist.
Good's charges were later dismissed.
As for the woman who took issue with my recording, I'd like to say this to her.
Ma'm, first of all, it's not illegal to record in public.
It's protected under the first amendment.
Furthermore, neither you ma'm, nor any other citizen, including myself, have any expectation of privacy, when out in public.
This especially applies to law enforcement, and government officials, public servants, who are paid with our tax dollars.
What's ironic ma'm is not only was I protecting your safety, by recording, and documenting RPD officers Erin Rogers texting and distracting behavior when she should have been focused on your safety, but perhaps even more ironic is the fact that on your way to the Park Ave. festival, during your stroll through the festival, and on your way home, you were captured on countless video surveillance cameras.
Both privately owned surveillance cameras (businesses), or government owned ones.
In other words, BIG BROTHER.
As for Rochester Police officer Erin Rogers, not only did her being distracted by her compulsive texting put innocent lives at risk, but the fact that she even left her post to come and ask me such a stupid question, about what I'm recording, shows that my work as an advocate for the right to record is far from over.
Had RPD officer Erin Rogers been truly educated on citizen's first amendment right to record, she would have never even approached me.
A police officer who knows the law, that he or she took a sworn oath to uphold, and who knows that citizens have the right to record, would have handled things completely different.
Once the woman complained that there was someone across the street video recording, a competent, professional, and well educated law enforcement officer would have told her, "Ma'm, that person is not committing any crime, he has the right to video record, it's protected under the first amendment."
That's what an educated and professional police officer would have done.


Click Play to watch video, pay attention as the video shows Rochester, NY Police officer distracted, texting on her cell phone.





Click Play to watch video of Rochester, NY Police officer Mario Masic arresting Emily Good for exercising her first amendment right to record.



The Davy V. Blog is a terrific outlet for police state news. If you like what you just read, please go to his page and show him some love by clicking on the donate button in the upper right hand corner.