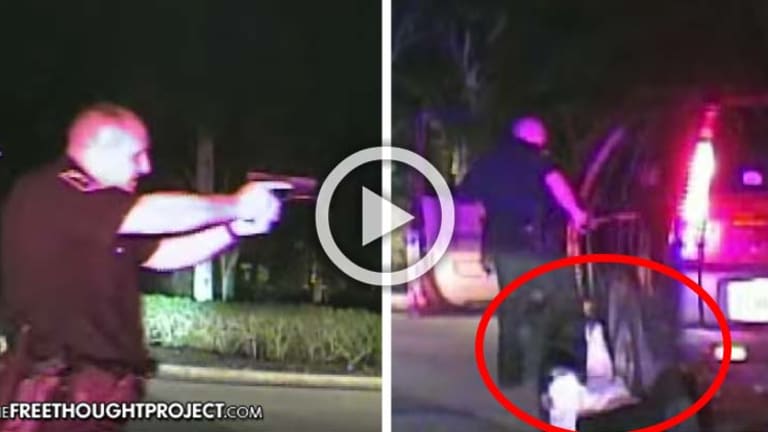 WATCH: Woman Run Over by Her Car As Crazed Cop Drags Her Out at Gunpoint for No Reason
Only because of a cop watcher and a video was this crazed cop exposed for almost killing a woman during a traffic stop for speeding.
Lee County, FL — Lee County Deputy Raymond Gallagher is a bad cop. It is cops like him that add to the fear people feel when they see those red and blue lights in their rearview mirrors as they are targeted for extortion for some arbitrary traffic violation. However, thanks to the power of video and a cop watching citizen, Deputy Raymond Gallagher is a cop no more.
In October, Gallagher pulled a woman over for speeding. It was a routine stop and it appeared that the woman wanted to get off the road, so she pulled into a parking lot at a nearby shopping mall. Never did the woman try to flee or resist or otherwise pose any threat to Gallagher. However, that did not stop him from creating the violent scene that unfolded next.
For pulling over into a parking lot — for a minor speeding violation — Gallagher rushed her vehicle with his weapon drawn and proceeded to drag her from the car. Clearly in shock and frightened as a crazed screaming man is running toward her with a weapon pointed at her head, the woman either forgot or did not have time to put the vehicle in park. However, it was not moving at all — until Gallagher dragged her out of the car.
In the officer's dashcam video, we see him rush the car and proceed to drag the woman from the car. As she falls to the concrete with her seatbelt still attached, her foot slips off the brake causing the car to start rolling forward. Because the crazed cop didn't allow her to remove her seatbelt — or put the car in park — she was dragged along the side of her moving vehicle.
Luckily, she was not run directly over by the back tire and killed. But she was hurt.
After the stop, Gallagher arrested the woman and fabricated an entire story to back up his reasons for the use of force and never once mentioned that she was pulled from the vehicle and dragged.
As NBC 2 reports, an internal affairs investigation also discovered Gallagher lied on the arrest report, stating the female tried to avoid him when he first made contact with her, something the video proved never occurred.
Instead of the truth, contained within the officer's fictional report was a statement about how he "helped" the woman from her vehicle. In their investigation, the department used the Merriam-Webster dictionary to define 'help'.
Merriam-Webster defines the work help as follow(s): to give assistance or support to; to make more pleasant or bearable; to be of use to, to change for the better. In the video, Deputy Gallagher did not appear to assist, support, please, be of use to, or change the situation for the better.
The investigation substantiated the following four charges:
• Improper Conduct- Excessive or Unnecessary Force
• Improper Conduct- Untruthfulness in Proceedings or Reports
• Job Knowledge and Performance- Knowledge of Rules and Procedures
• Improper Conduct- Conduct Unbecoming Officer/Member
"Mr. Gallagher fell far short of our expectations, training, and policy, and we dealt with him swiftly and surely," Sheriff Mike Scott said. "I will not tolerate behavior like that."
Thankfully, a vigilant citizen decided to stick around and act as a witness after he suspected Gallagher was going to escalate the situation or this cop may have never been exposed. The Witness, Kevin Noell then called the Lee County Sheriff's Office to report Gallagher.
Now, nearly 5 months after the incident, Gallagher is no longer a cop, and, hopefully, it stays that way.
Below is the dramatic video showing this deputy's aggressive and dangerous behavior.
[author title="" image="https://tftpstagingstg.wpengine.com/wp-content/uploads/2016/03/magorist-e1456948757204.jpg"]Matt Agorist is an honorably discharged veteran of the USMC and former intelligence operator directly tasked by the NSA. This prior experience gives him unique insight into the world of government corruption and the American police state. Agorist has been an independent journalist for over a decade and has been featured on mainstream networks around the world. Agorist is also the Editor at Large at the Free Thought Project. Follow @MattAgorist on Twitter, Steemit, and now on Facebook.[/author]