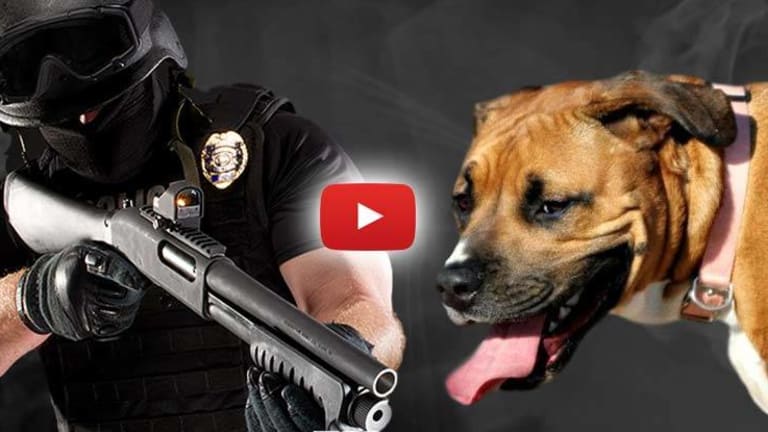 Cops Admit to Entering Innocent Family's Property, Shooting and Leaving Their Dogs for Dead
The family had no idea why their dogs were bleeding out -- SWAT never informed the family of the shooting.
A Mesa, Arizona, family returned home to find their two beloved dogs inexplicably shot — left to die — in their own backyard.
According to Stephani Martin, her mother returned home and discovered Roxy, a Boxer mix, and Piggy, a pit bull, injured in their backyard — without explanation or any clues as to what had happened.
Piggy wasn't seriously injured, but the family had to rush Roxy to the veterinarian where the suffering animal had to undergo emergency surgery, local ABC15 reported.
In order to figure out what had happened to Roxy, the vet performed an X-Ray.
"The vet said he felt something funny so he tried to tug it a little, but it wasn't coming out," Martin explained.
As it turned out, the object was a bean bag — courtesy of the Mesa Police SWAT Team. But police didn't bother informing the family — or even neighbors — about anything that took place in the Martins' backyard.
It wasn't until the family asked neighbors why their dogs were injured that they found out police had entered the Martins' yard approximately five hours before the discovery of the injured pets.
"They could've left her for dead, she could have died," Martin said.
Police confirmed, according to ABC15, "they had to shoot two dogs with bean bags while they were searching for a suicidal teen armed with a weapon" — who was found nearby about an hour after police shot the dogs.
Mesa Police told the local station a SWAT sergeant had been made aware the dogs were shot with bean bags, and — alarmingly — said a patrol sergeant had been tasked with notifying the family about what happened.
Not only did police not offer a reason as to why the family wasn't informed their animals had been shot by officers, there was no explanation for why they didn't attempt to get veterinary care for the animals.
Martin is now seeking reimbursement for veterinary care the family was forced to provide and are demanding to know whether policy was followed in this case.
Perhaps the most imperative question, however, concerns the astonishing invasion of the family's property, the fact police seriously injured two family pets safely situated in a backyard, and the utterly callous lack of follow-through by police in both procuring medical care and informing the Martins about the injuries to their pets.
Mesa Police and SWAT almost inarguably proved a complete violation of rights, if not criminal negligence, considering Roxy received serious injuries and was left for dead.
ABC15 reported they've requested all relevant documentation of the incident.
Meanwhile, the family has been left without an explanation from police, much less an apology for the nearly tragic shooting.
It's an open question, as well, whether Mesa Police will take full responsibility for their actions — or if they must be forced to be accountable.
Roxy and Piggy are recovering and will be ok, but the dogs are lucky the family came home in time to rush Roxy to the vet.