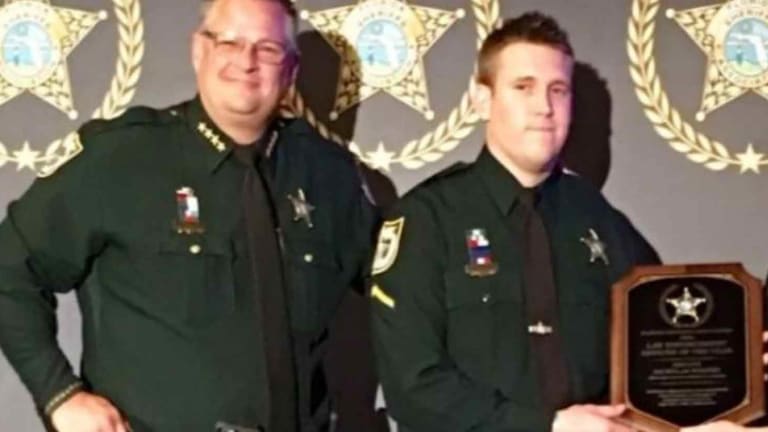 'Officer of The Year' Arrested After Neglected Toddler, Arsenal, Cocaine, and Feces Found In Home
A sheriff's deputy who was arrested on child neglect and drug possession charges was formerly named the "Law Enforcement Officer of the Year."
Brevard County, FL – The same police officer who was awarded for his exceptional conduct on the job, was recently arrested on a number charges including child neglect and drug possession after neighbors reported hearing gunshots from his house.
Nicholas Worthy was named the top sheriff's deputy in Brevard County in 2015, and he was named "Law Enforcement Officer of the Year" by the Florida Sheriffs Association in 2016. He was also awarded the Bronze Star Medal with a V for valor in combat in 2010 after he served in Afghanistan as an Army Ranger.
The Orlando Sentinel reported that Worthy's most recent accolades stemmed from incidents in 2015 when he was one of three deputies who saved the victim of an arson attempt, and when he was shot at by a suspect and managed to return fire after his gun malfunctioned.
"I could not be more proud of Deputy Nick Worthy for everything he does to protect our community and his heroic life-saving actions. He is a shining example of dedication to protecting our citizens with compassion, professionalism, and courage," Sheriff Wayne Ivey said at the time.
However, everything changed this week when Brevard County deputies executed a search warrant at the home Worthy shared with his girlfriend, Rachel Trexler, and their 2-year-old daughter. The Miami Herald reported that neighbors called 911 and said they heard gunshots and a woman screaming on Wednesday night, and when police were unable to contact anyone in the home, they obtained a search warrant and entered the residence at 6 a.m. on Thursday.
Worthy and Trexler were both arrested on charges of child neglect, possession of cocaine, possession of marijuana and possession of drug paraphernalia. Their two-year-old daughter is in the custody of Child Protective Services, and their three dogs were taken by Animal Services.
Sheriff Ivey described Worthy in a very different tone as he revealed the ghastly conditions of his home during a press conference. In addition to finding shell casings on the floor and bullet holes in the walls of the house that were consistent with the reported gunshots, deputies found a horrific environment that included a mess of garbage, dog feces, cocaine, sex toys, guns, and ammunition.
"What was found inside was absolutely disgusting, absolutely deplorable, and quite frankly, just unbelievable. After everything we have found and everything we have seen, there is absolutely no other way to describe this except extremely disgusting," Ivey said. "The house was in complete disarray. There was dog feces all over the house. There were firearms, ammunition, other types of trash, litter, food."
Ivey emphasized the fact that Worthy was immediately arrested, and was not given any special treatment because of his status as a highly-decorated sheriff's deputy. He has also been fired from the department.
"The one thing I can tell you about that home is that it was absolutely disgusting … conditions that no one should live in, especially not someone that has a profession such as ours, and certainly, with absolute conviction, not someone that has a small child exposed to that type of environment," Ivey said.