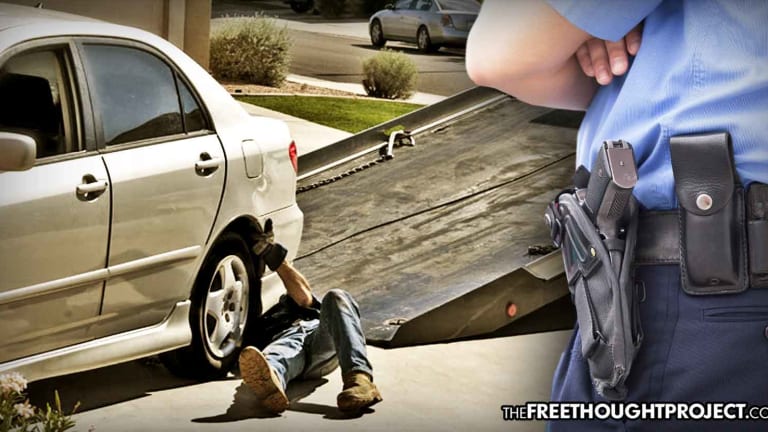 Cops Arrest Tow Truck Driver For Legally Trying to Repossess Fellow Cop's Private Vehicle
NYPD cops arrested an tow truck driver in an alleged act of retaliation for attempting to tow one of their fellow police officer's private vehicle.
A New Jersey tow truck driver has been arrested and charged with several crimes after he attempted to reposess a vehicle belonging to an NYPD police officer. Driver Jose Rodriguez was driving through Staten Island May 30 using a license plate reader when his system alerted him it had found a vehicle which was ordered repossesssed by Nissan Financing.
Rodriguez stated the vehicle was conveniently located near an NYPD precinct where he entered to file the appropriate intent to repossess paperwork. Still not knowing the vehicle belonged to a cop, Rodriguez proceeded to approach the vehicle with his tow truck. That's when Rodgriguez says a man (later identified as an off-duty copy) drove over in a green pickup truck and blocked his access to the vehicle to be towed telling Rodriguez;
You're not allowed to do reposessions over here.
The cop who owned the car soon after approached Rodriguez and stated he would pay off the car in full on the spot, but the tow truck driver was resolute saying Nissan had already been notified he was in possession of the vehicle.
That's when Rodriguez said the police retaliated against him for attempting to repossess the officer's car. Despite having towed 1,000 vehicles in NY prior to the incident, police now claim Rodriguez had no right to conduct any repossessions in the State of New York. Following Rodriguez' arrest, the NYPD issued the following statement regarding the incident.
The victim (cop) stated to police that an unlicensed tow truck was in possession of his vehicle without authorization to do so. A police investigation determined that the subject was in possession of a knife and three radio devices allocated for police. The subject also was in violation of multiple [Vehicle Traffic Law] regulations and charged with false business records, unauthorized use of a vehicle and criminal possession of a weapon, among other violations.
Police claim Rodriguez must have a Department of Consumer Affairs (DCA) medallion from NY to be able to tow any vehicles in the State. According to Staten Island Live, "Rodriguez's employer, Anthony Destefano, said the DCA medallion is not required for a vehicle registered in New Jersey, and the document issued by Nissan to repossess the vehicle is legit." Destefano stated:
They're telling me we can't do repossessions with a New Jersey truck in New York...They're totally wrong.
Staten Island Live reportedly researched the city's website and located a statement which appears to corroborate Destefano and Rodriguez' contentions. It reads in part;
Tow trucks not based in New York City that pick up passenger vehicles within the city must also be licensed. Individuals must have a tow truck driver license to drive a tow truck.
Because police targeted Rodgriguez for investigation, they uncovered several alleged crimes with which they used to arrest the tow truck driver who was, arguably, just doing his job.
While the police wanted to charge Rodriguez for criminal possession of a weapon, the most serious charge, prosecutors instead chose to charge him with "illegally tinted windows and possessing police scanners in a moving vehicle". Many if not most tow truck drivers have such scanners which help reveal when and where an automobile accident has occurred.
Rodriguez says he will fight the charges and is contemplating a civil rights lawsuit which presumably would allege the NYPD retaliated against him for attempting to repossess a cop's car who stopped making his payments long ago, according to Rodriguez.