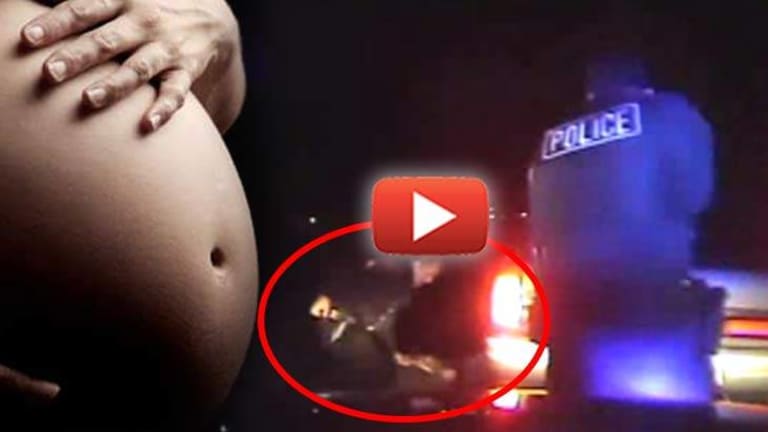 Cops Hold Couple at Gunpoint, Nearly Kill them & Unborn Child for Driving to Hospital to Give Birth
Infuriating and Shocking Dashcam shows a father missed his daughter's birth because cops locked him in jail for driving his pregnant wife to the hospital.
"My wife is in labor!!" -- "I will shoot you, you piece of s---! Get on the ground!"
Chesterton, IN -- In January of 2012, Dana Reiner's water broke, so her husband James began excitedly driving to the hospital. The couple was almost there when a police cruiser got behind them with his lights on to pull them over.
Instead of pulling over, however, James Reiner called 9-1-1 to alert dispatch to the fact that his wife was about to give birth. He turned on his flashing lights and continued to drive.
Realizing that the cop was apparently ignoring the communication with dispatch, James pulled over to attempt to reason with the officer. But this officer was in no mood to reason.
As Reiner attempted to explain to Hebron officers Anthony Dandurand and Travis Thomas that his wife was about to give birth to a baby and that he was on the phone with dispatch, they had nothing of it.
"I will shoot you, you piece of s---! Get on the ground!" yells Dandurand as he points his gun at the distressed couple.
Reiner, in an exercise of futility, continues to plead with the officers to communicate that his wife is in labor. But this effort is to no avail. As Dandurand rushes up to the panicked father to be, he smashes the submissive man's head into the pavement.
On the other side of the car is officer Thomas, who is holding Dana Reiner at gunpoint as she screams that her water has broken, and she needs to get to the hospital.
Dana recalled this nightmare to the NWtimes:
"That's one of the only things you can hear from me on the tape. I've only listened to it a handful of times, because you relive it. And it's just gut-wrenching. Every time I hear my own voice make that sound, it's like you're there again."

When she got out to show the officers her water had broken and her pants were wet, she saw a red light from a gun's laser sight on her stomach and was ordered to "get back in the f------- car," she said.

"I thought, 'OK,'" she said. "I'm not going to let them shoot my kid. I got back in the car."
In the meantime, these "heroes" haven't figured out that they have an emergency on their hands and keep shoving the face of this innocent father to be into the pavement.
Instead of putting the distressed mother in the back of their cruiser and being actual heroes, they called an ambulance. However, these inept jackboots would not even call an ambulance until 15 minutes after the stop began. Dana Reiner would nearly lose the baby because of this obstinate decision.
The ambulance would not arrive until more than 20 minutes after the initial stop. This caused Dana to give birth immediately upon arriving at Franciscan St. Anthony Health hospital. Doctors had to perform an emergency procedure as their newborn daughter had the umbilical cord wrapped around her neck.
Had these incompetent tyrants held Dana on the roadside a minute longer, their daughter would have likely died.
Prior to the ambulance showing up, these stellar public servants were busy taunting a father to be with jail time. According to the couple, when they pleaded with the officer to help them, Dandurand replied, "You will be in jail tonight, and you will not be there when your child is born."
James was arrested and brought to Porter County Jail where he would spend the night without knowing the fate of his wife and newborn daughter.
After this hellish night doled out by Hebron's finest had ended, the punishment would continue. The courts could not file a formal charge against James as he had not committed a crime. However, his criminal history still shows a felony arrest, which now shows up in a background check for a job.
Not only did the officers violate the rights of this family on that evening, but they would go on to lie about the entire stop. In his police report, Dandurand would claim that he chased the couple for 5 miles. However, he was later forced to admit in court, because of the dashcam video which proved his deception, that it was only a mile-long pursuit.
Also according to a lawsuit filed by the Reiners, they were not even speeding, and the entire stop was unlawful from the start.
As the NW Times reports:
James Reiner said the officers at the traffic stop talked about erasing dash camera videos, made disparaging comments about the public and told him it wasn't too late to be shocked with a Taser after he had been submissive for some time.

When one of the officers asked why the couple had been pulled over, another replied, "I wanted to get stupid," the Reiners said.

In a video from Thomas' car, an officer can be heard talking about a "blue Caddy," which the Reiners suspected was a reference to their green 1994 Lincoln Town Car.

"Blue Caddy, two times," the officer says. "I'm like, yeah, this is going to the 'hood."
These maniacs nearly caused the death of an infant because of their jackboot tactics and disregard for civil rights. One would obviously assume that they've both been fired, right?
Wrong.
According to Portage Police Chief Troy Willians, Dandurand, who now serves as a K-9 officer, has been a model officer since joining the department in June 2012, five months after the Hebron incident.
"Officer Dandurand should not be demonized for one unfortunate incident in which several factors played into the outcome," Williams said.