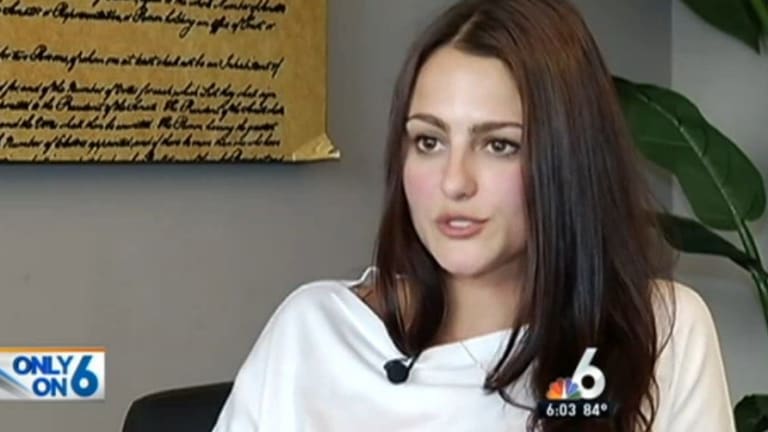 Cops Assault And Arrest Woman for No Reason, Leave Her Cuffed and Naked in Public for 30 Minutes
"They pulled me out of the apartment and my towel fell off my head and I started trying to run back inside and the cops come into my apartment"
Miami, Florida - Candice Padavick of South Florida is suing Miami Beach Police after she was wrongfully arrested, assaulted, and carried through the lobby of an apartment building by police while she was completely naked.
According to court documents recently obtained by NBC, Padavick took a cab home one night several months ago and was unable to pay him with a credit card, so she had to go to her apartment to get him his money.
"It was $16.90. I wont forget. I tried to pay with a credit card and when I tried to pay he said no no I only take cash," Padavic told reporters.
As the cab driver began to get impatient, he called police in fear that he would not get paid.
One of the security guards in the building allegedly realized what was happening, and gave the cab driver $20, to cover the $17 fee. This exchange is seen on security camera footage from inside the apartment lobby.
The security guard then told the cab driver to call the police to tell them that the issue has been resolved. However, the police ended up arriving at the apartment an hour later looking for Padavic anyway.
Police claim that they did not need a warrant to enter Padavic's home or detain her because she was intoxicated and argumentative when they came to her door. Police have failed to obtain any evidence to prove that Padavic was intoxicated, even though they had numerous opportunities to check while she was in custody.
Padavic says that the police are lying about what happened to cover up after themselves and place the blame on her.
"They pulled me out of the apartment and my towel fell off my head and I started trying to run back inside and the cops come into my apartment..... And so he's jerking me around and so I have his arm and my robe hanging off and this is completely open--nothing underneath. And then more cops come up," she said.
Padavick was detained in public, completely naked for at least 30 minutes, and was abused so badly by police that cuts and bruises were clearly visible after the attack.
Padavic was arrested for resisting arrest, battery on a law enforcement officer, and petty theft for no payment of the taxi ride, but all of those charges were dropped after the arrest.
Officer Gonzalez has said under oath that he didn't have any clue that there was a possibility that the fee was paid. However, Juan Camona from Oceanside Plaza Security has said that he told police that he paid the fee, but they said that he wasn't allowed to.
"The police officer said I could not give the taxi driver the money because its not right," Camona said.
"Given the fact that the security guard paid the taxi driver or even offered to pay the taxi driver, at that point they should have let it go," Padavicks attorney, David Kubiliun said in a statement.
John Vibes is an author, researcher and investigative journalist who takes a special interest in the counter culture and the drug war. In addition to his writing and activist work he is also the owner of a successful music promotion company. In 2013, he became one of the organizers of the Free Your Mind Conference, which features top caliber speakers and whistle-blowers from all over the world. You can contact him and stay connected to his work at his Facebook page. You can find his 65 chapter Book entitled "Alchemy of the Timeless Renaissance" at bookpatch.com.