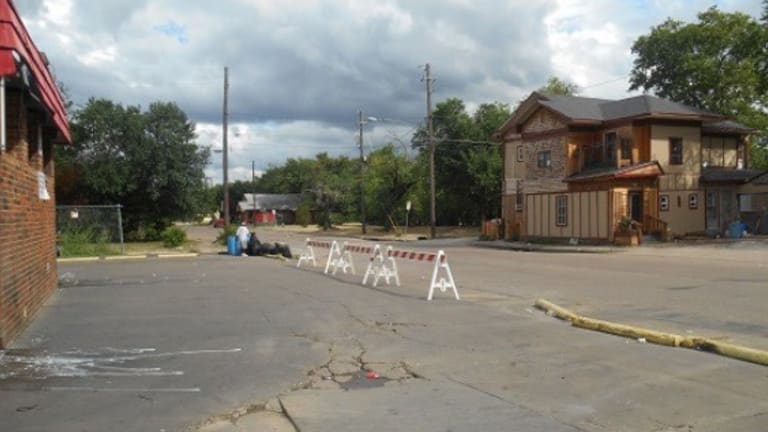 Cops Barricade South Dallas Car Wash, Threaten Arrest If You Ask Too Many Questions
Cops Barricade South Dallas Car Wash, Threaten Arrest If You Ask Too Many Questions
Jim Schutze
June 11, 2014
Sunday I witnessed first-hand the Dallas Police Department's new technique to force the owners of that troubled car wash in South Dallas to sell or go out of business. You may know which car wash. The one City Hall hates.
See also: Dallas City Hall versus The Car Wash
Normally on Sunday afternoon Jim's Car Wash is one big neighborhood festival, jammed with people washing cars. When I got there Sunday afternoon the place was deserted.
Deserted, as you may remember, is what City Hall wants. As I have written here in the past, Mayor Mike Rawlings has been blunt in describing the car wash as a scary nuisance that frightens people driving down MLK Boulevard from the freeway during the state fair. He has been equally blunt in stating that he would like to see a change of ownership.
The mayor's problem is that the owners of the car wash, Freddy and Dale Davenport, don't want to sell. They say the city's efforts to force them to sell are official oppression inspired by political and commercial interests.
In 2005 and 2006 a state legislative investigative committee dug deep into the Davenport's allegations of official oppression and concluded they were right. At that time Dallas cops were parking squad cars all over the car wash lot, locking them and walking away as a means of shutting down the business.
What I saw Sunday, I guess, was the new police methodology for shutting down a private business. When I got there they had erected plastic barricades all the way around the car wash. A squad of four uniformed officers was across the street with two patrol cars, a police pickup and a trailer full of police dogs, which they never used while I was there. Occasionally one or two additional police vehicles joined them, apparently with supervisory personnel.
It had the desired effect. The car wash, of course, was dead. Only one or two brave souls straggled on through the sole entryway the cops had left half-open.
When I asked Sergeant E. Huerta to explain the operation, he threatened repeatedly to arrest me. He told me if I had questions I should call the chief of police, the City Council or the mayor. That's what I'm doing today.
Really, he and the officers with him were OK. They looked, if anything, pretty sheepish. They looked like good cops who had been ordered to do some dirty work. But dirty is the word. Down and dirty. Did you even know stuff like this went on in Dallas? Only on MLK, where they think nobody's watching.
This article was republished with the permission of the Dallas Observer.