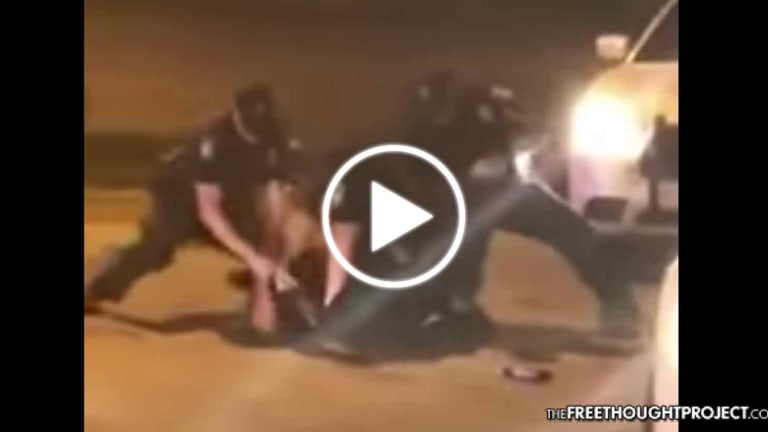 VIDEO: This Man Had a Plant in His Pocket, So Cops Beat the Hell Out of Him
For having a tiny bit of a plant in his pocket, a Baton Rouge man was severely beaten by cops, kidnapped and thrown in a cage.
Baton Rouge, LA -- A new video of a man getting beaten by three Baton Rouge cops exposes the brutal nature of America's war on a plant. As states across the union continue to bravely defy the federal government's Schedule 1 classification of marijuana, this recent case out of Baton Rouge, LA, serves as a horrid reminder of the atrocities police will still commit while going after those who dare possess this plant.
On April 10th, Sam Dorosan Jr., 38, had done nothing morally wrong. He had hurt no one when three cops with the Baton Rouge Police department targeted him.
That Sunday night, officers were conducting patrols in the area after reports of a shooting. According to Sgt. Don Coppola, a BRPD spokesman, the officers approached Dorosan outside the AM Mart because they claimed he was acting "nervously" and grabbed at his pockets.
The video below shows exactly why Dorosan had every right to be nervous, as he was about to receive a brutal beating at the hands of BRPD. Apparently, for the BRPD, acting nervously is reasonable articulable suspicion and gave them probable cause to detain and search Dorosan.
According to police, Dorosan, who was on probation, pleaded with the officers, telling them that he did not want to go back to jail for the plant they found in his pocket. However, police allegedly had nothing of it and moved in for the takedown.
Naturally, as three armed men began attacking him, Dorosan 'resisted' -- also known as protecting himself from the men with guns who were trying to kidnap him.
The video does not show the beginning of the stop. However, as it begins, one officer appears to strike Dorosan before an officer yells "put your hands behind your back."
The next thing we see, police proceed to unleash their fury on the man for not wanting to be kidnapped and thrown in a cage for the plant he had in his pocket.
Dorosan's 'resisting' was little more than protecting his face as the cop's fists struck him over and over and over.
Once they beat him into submission, Dorosan was arrested. Police then used the plant in his pocket as justification for the beating and charged him with obstruction of justice, possession of marijuana, resisting an officer, and probation or parole violation.
Coppola told that Advocate that internal affairs may launch an investigation. However, no officers were placed on administrative leave.
As the Rouge Collection reported, Together Baton Rouge released a report on disparities in drug possession enforcement in February. The report shows that zip codes with higher black populations are the areas where officers make the most arrests for simple possession of marijuana, even though data says blacks and whites use drugs at the same rate.
Sam Dorosan was arrested for simple possession, which turned into an unnecessary assault by two BRPD officers. The data provided by Together Baton Rouge suggest this is a problem in Baton Rouge that must be addressed — and incidents like what happened to Sam Dorosan are evidence of this.
Sadly, Sam Dorosan's case is one that plays out in cities across the United States. Every day, cops enforcing the immoral war on pot, beat, kidnap, cage, and kill people over this plant.
Last September, in Tampa, Florida, a life was taken by cops in this senseless war. This time, an unarmed man sitting in a bedroom with two grams of weed was murdered by state agents seeking out this plant.
A military-style raid took place at the home of Levonia Riggins, 22, by a SWAT team looking for "illegal narcotics." Riggins was gunned down in his home because cops arrest people for cannabis.
in 2015, an aspiring teenager, Zachary Hammond, was murdered in cold blood by a Seneca police officer who thought arresting people for marijuana made him a hero. Sgt. Tiller, the cop who killed Hammond, has yet to face a single charge.