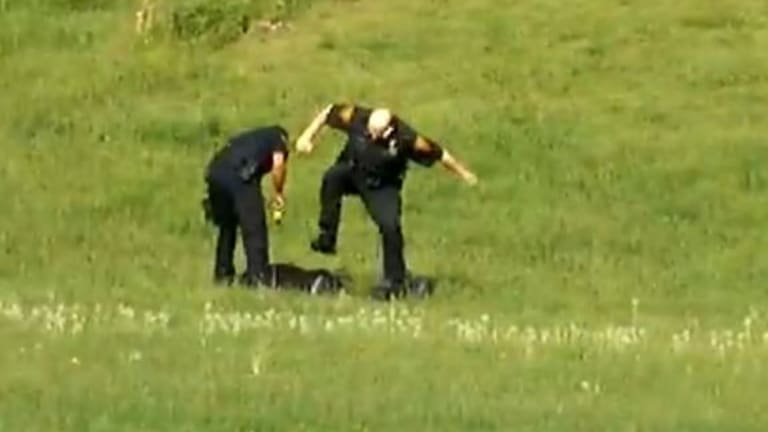 WTF? The Cops in this Video Have Been On Paid Vacation for 3 Years!
For the last three years officers Joseph Lawlor, Elson Morales and Clive Higgins of the Bridgeport, CT, Police Department, have been on paid vacation.
Tax payers have continued to pay the salaries of these three thugs after they were caught on video stomping on a motionless man in broad daylight.
Tax payers have also been called to task to pay the $198,000 settlement to Orlando Lopez-Soto, the man being stomped on by thugs in the video below.
On Tuesday, after receiving a Freedom of Information request from Hearst Connecticut Media, city officials said they agreed to settle the man's civil rights lawsuit against the Police Department, paying him $198,000.
It must be nice to be able to beat a man down, take a 3-year long paid vacation, and defer all monetary liability to the taxpayer.
According to the CT Post, Carolyn Vermont, immediate past president of the Greater Bridgeport NAACP, said "There have been so many people who have told their stories about police brutality, but that's all they were: stories. Now, we have this video in living color of Bridgeport police brutalizing a man. Now they (city officials) can't ignore it. There is a price to be paid when an individual's civil rights are violated."
But it seems as if they have been ignoring it.
The CT Post also talked to State NAACP President Scot X. Esdaile, who said the case goes far beyond a monetary settlement.
"I want to know that the Bridgeport Police Department is putting out the message to its officers that these type of actions will not be tolerated," he said.
Esdaile said he is waiting for the investigation into the stomping incident to be completed.
"And only then can the police move to regain their trust from the minority community," he said.
Isn't taking 3 years to decide whether or not to fire 3 men who were caught red handed assaulting a man in broad daylight, "tolerating these actions"?
What exactly does it take to get fired from a police department these days?