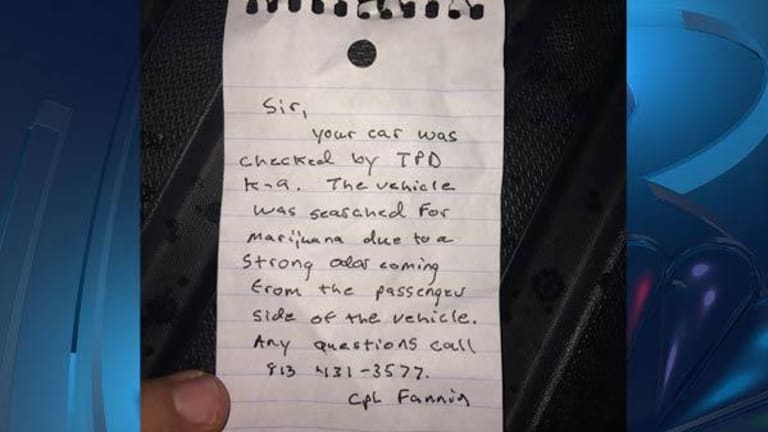 Cops can Break In, Search, & Destroy Your Car Without Your Consent or Your Presence
"You think if anyone is going to break into your vehicle in Ybor, the last person you think, it's going to be the cops."
Matt Agorist
June 6, 2014
When Matthew Heller was walking back to his vehicle after leaving a concert in Tampa, FL he was upset to find that his truck had been broken into and torn apart.
When he looked inside he found a little note left on a 2X3 piece of paper that said, "Sir, your car was checked by TPD K-9. The vehicle was searched for marijuana due to a strong odor coming from the passenger side of the vehicle. Any questions call Cpl Fanning."
No drugs were found and no charges were filed.
"It was all sealed up, a parked vehicle in a private parking lot for a hip hop concert in Ybor. There were all kinds of smells, everywhere around here," said Heller.
The truck had been ransacked, electronics were ripped out and the contents left scattered about.
"Disgusted, I've got my whole life savings in this truck. It's like a marketing tool for my business to promote the air horns and everything. The horns weren't working, all the electronics were ripped out," said Heller.
When the local news station Channel 8 reached out to TPD to ask about this ridiculousness, they were told that the search is "legal, but not typical" and that they are "reviewing the specifics of this investigation."
Heller's attorney, Bryant Camareno, believes otherwise, "It's an illegal search," Camareno said. "Usually if it's some kind of unoccupied vehicle there has to be some level of exigent circumstance to justify searching a vehicle without a search warrant. Exigent could mean if there is a dead body inside, if there is a screaming child locked in the car, a dog but if the car is unoccupied there is no exigency to justify the search."
The TPD is not paying for the damage and considers their actions just.
So now the precedent is set that police can walk through a parking lot, say they smelled something in a car, break into the car, tear it apart, and it's completely legit.
There is absolutely no way this preposterous legislation could ever be abused in any manner. /sarcasm