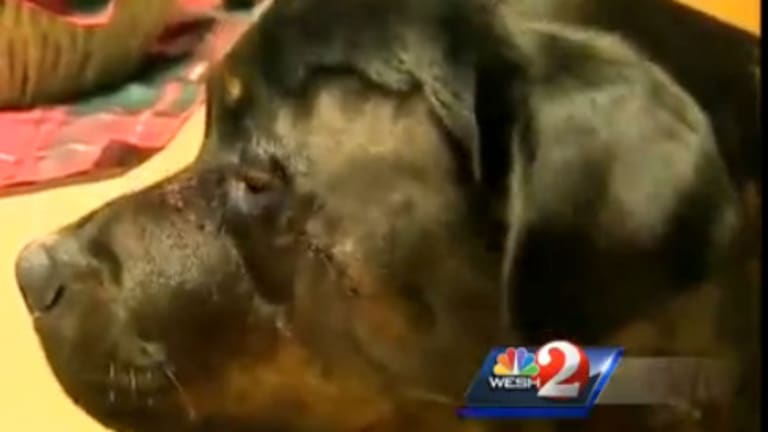 Cops Break Into Private Property and Shoot Owner's Dog After Serving A Warrant to the Wrong House
It all started when police showed up at the wrong house to serve a warrant to a person that the homeowner didn't even know. When Richard Stotlar, the homeowner, told the cops he didn't know who they were talking about, they proceeded to break into the property.
Scroll Down inside window for video.
According to WESH,Richard Stotlar said Lady, which he rescued more than a year ago, is now stitched up and in pain after being shot three times about midnight Friday on Elsie Avenue in Holly Hill.
"I was sitting in there, watching TV, and all of a sudden we hear three gunshots," Stotlar said.Stotlar said he ran outside and saw officers in his backyard with Lady surrounded.
Officers said the dog made an aggressive move.
The department is calling the incident an accident and are writing it off as a "rookie" mistake. 
It must be nice to be able to unlawfully break into someone's property, kill their dog, and face no penalty whatsoever.
Some estimates show that every 98 minutes, a dog is shot by law enforcement. How many innocent people have had their family pets gunned down by belligerent and incompetent police officers? It is hard to tell as there is no current tracking system for cops killing dogs. Even, the U.S. Postal Service knows exactly how many mail carriers were bitten by dogs in 2012, but no one seems to know how many pet dogs were killed by law enforcement.
A heartbreaking facebook page is dedicated to those who've lost pets due to unjustifiable police action.