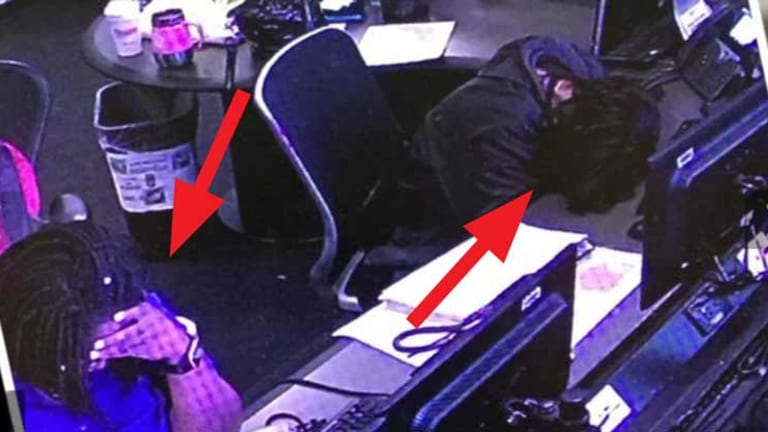 VIDEO: 17 Cops Caught Cheating On Police Exam, Group Sleeping at Work—Nobody Fired
Nearly 20 law enforcement officials will keep their jobs after they were caught cheating on an open-book exam that is required by the department.
Atlanta, GA — You really cannot make this stuff up, folks! Nearly 20 employees were caught cheating—on an open-book test—that is used to certify Georgia law enforcement personnel on how to properly use their Criminal Justice Information System (CJIS).
Around 100,000 employees take the exam every two years. This year, 17 officers who work at Atlanta Public Schools as school resource officers and one police dispatcher were caught cheating, which is considered a crime in the State of Georgia.
The cheating scandal came to the surface after it was discovered that several police dispatchers were sleeping on duty while they were supposed to be answering 911 calls on their 3rd shift duty schedule. The allegations of sleeping on the job then led to a broader investigation whereby it was discovered that a police dispatcher had helped 17 police officers pass the biannual exam.
Police Chief Ronald Applin told the press:
"I won't try to get around it or try to come up with another word to make it sound pretty. That's what it is. It's cheating. Why someone would cheat I Can't explain that, But I know it's a crime."
Vernon Keenan, director of the Georgia Bureau of Investigation, said that he agrees. He explained that the CJIS involves criminal records, jail occupancies, and inmate information and that properly using the system is required by law:
"If you're cheating, you're violating the law...Misuse of that network is a crime. So we want the operators, the persons who are going to use the criminal information system network to know what they're doing and not misuse the system."
Even though both the chief and the director agree that what the 18 law enforcement officials did was illegal, Applin made no indication whether any of the officers would be charged with a criminal offense. Instead, he said all 18 would be disciplined, which usually means—as The Free Thought Project has documented on numerous occasions—they will be placed on paid administrative leave while the investigation takes place. In other words, they get a paid vacation for cheating.
Applin said he still believes in his school resource officers, who are supposed to set a high standard of excellence in modeling integrity and honesty for the children they work with day in and day out. He told the interviewing reporter:
"These are good officers who have had some positive impact on their schools, on the kids that they work with and they made a decision that I think was not a good decision."
Therein lies the problem we at TFTP have with the way law enforcement officers are treated by their own. In the real world, if someone is caught cheating on a test, there are often serious consequences which accompany such an action.
We are aware of one student who was caught cheating on an online assignment at a major university. The professor turned in the student to the office of academic integrity, who then conducted an investigation. Upon conclusion of the investigation, it was discovered that the student had cheated on nearly all of the assignments given. The credits issued to the student were rescinded, the student was kicked out of the university, and the student must still repay the student loans taken out to attend the university.
Cheating is a serious offense, but it seems in Atlanta, if you are a police officer at a public school, you can get away with cheating on your tests—even if it is an open book exam.