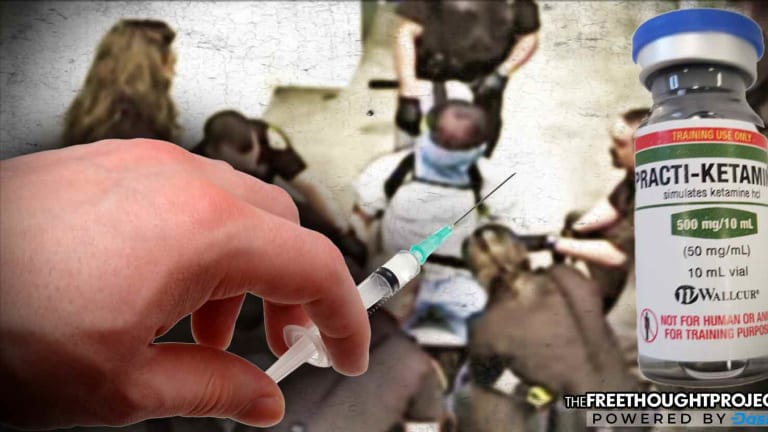 Cops Caught Injecting Powerful Sedative They Classify As 'Date Rape Drug' into Dozens of Suspects
Police were caught using a powerful tranquilizer to sedate restrained suspects who have not been charged with a crime.
A new report shows that police officers in Minneapolis have routinely ordered local EMS staff to sedate suspects with a powerful tranquilizer for the last three years, and in many of these cases, the suspect was not even charged with a crime.
Ketamine, the tranquilizer that is being used, has been popular in the club scene for years and has recently seen limited therapeutic research and use for a number of psychological ailments, including depression. Despite the fact that it is a "party drug," Ketamine is an extremely strong dissociative, which can severely impair memory and make it difficult for people to move.
For this reason, the Minneapolis Police Department manual classifies Ketamine as a "date rape" drug, despite the fact that it is a well-known and popular party drug that large numbers of people do voluntarily, on their own free will. However, the fact that the department considers this a "date rape" drug, makes it even more alarming that they are involuntarily dosing suspects with this substance when they have not even been charged with a crime.
The Star Tribune obtained the details of an investigation conducted by the Office of Police Conduct Review, which showed that the number of documented ketamine injections ordered by the Minneapolis police calls increased from three in 2012 to 62 last year.
"In many cases, the individual being detained or arrested was not onlyhandcuffed but strapped down on a stretcher in an ambulance before receiving ketamine," the report states.
Hennepin EMS Medical Director Jeffrey Ho and Minnesota Poison Control System Medical Director Jon Cole made a joint statement dismissing the report, describing it as a "reckless use of anecdotes and partial snapshots of interactions with police, and incomplete information and statistics to draw uninformed and incorrect conclusions."
"This draft report will prevent the saving of lives by promoting the concept of allowing people to exhaust themselves to death," they wrote.
Minneapolis Police Chief Medaria Arradondo said that after the report, his officers were told not to order medical professionals to sedate suspects, but to allow them to use their own judgment.
"We have that in place now. That policy really defines and clarifies that we do not want our officers providing recommendations or suggestions to EMS personnel. Our policy should be clear. Cops shouldn't direct medical professionals on health-related issues, and medical professionals shouldn't listen to them," Arradondo said.
Regardless of who makes the decision, video evidence uncovered during the investigation of the report showed that using Ketamine on suspects as a sedative is extremely dangerous.
"Multiple videos showed individuals requiring intubation after being injected with ketamine, and [police] reports indicate that multiple individuals stopped breathing and/or their hearts stopped beating after being injected with ketamine," the report said.
"Between 2016 and 2017, MPD officers explicitly asked EMS to provide ketamine, either when calling for EMS services or upon arrival of the ambulance eight times. Also, MPD officers assisted EMTs while they injected individuals with ketamine" the report continued.
In some videos documented in the report, officers can be heard joking about putting the suspects into a "K-hole."
Representatives for the police department insist that this was for everyone's safety, including the suspects, but in many of these cases, the suspects were handcuffed or strapped down to a stretcher, so they had no ability to actually hurt anyone. However, these suspects were likely being rowdy or verbally insulting towards the officers, so even though they did not pose a threat, it was more convenient for the officer if they were unconscious.