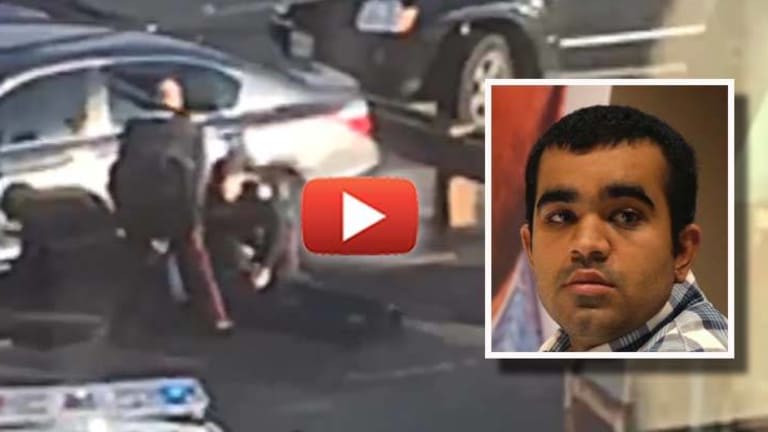 Video Shows How Being Innocent & Disabled is No Protection from Police Violence
A mentally and physically disabled innocent man had done absolutely nothing wrong when police drove up with guns drawn and beat him to a pulp.
Toronto, CA -- In a case of mistaken identity, Toronto Police were caught on video viciously beating a nonviolent, innocent man with a developmental disability. On Wednesday, the victim filed a $5 million lawsuit against the police after a video of the assault was released.
Around 8 a.m. on November 1, Santokh Bola, 21, arrived in the parking lot near his grandfather's store when two Toronto cops approached him at gunpoint. Responding to a call about a suspect with a knife, two officers tackled Bola to the ground as a bystander began recording the incident on his ">cellphone. Two other cops rushed onto the scene immediately delivering kicks and punches to Bola's unprotected head.
As an officer repeatedly kicked him, Bola shouted, "Hello! I didn't do anything, sir."
Instead of conversing with the innocent man, a cop kneed Bola in the head before punching him multiple times in the face. As Bola continued to defend his innocence, one of the officers ordered him to shut up. Although Bola was restrained on the ground, the cops rained down a torrent of fists and knees instead of simply handcuffing him.
While begging for his life, Bola pleaded with the officers to find his grandfather or his parents to help explain his innocence. Unable to fully express himself due to his intellectual disability, Bola needed his family to protect him from the bloodthirsty cops.
Moments after being detained in a patrol car, Bola was released without charges when the officers realized that they had assaulted the wrong man. Bola's grandfather later took him to a local hospital where he received treatment for multiple head injuries. Bola also suffers from emotional trauma sustained during the beating.
" width="790" height="444" frameborder="0" allowfullscreen="allowfullscreen">
According to police, the officers followed proper protocol when they attacked an innocent man because he fit the description of a suspect armed with knife. Toronto police spokesperson Mark Pugash stated, "Because the man matched the description, officers felt it was essential that they take him and put him under arrest immediately."
"They were unremorseful, unapologetic, they told us that everything that was done was done under protocol, but instead of feeling our pain and seeing what we went through, they didn't care, they could care less," Bola's sister Sonia recalled. "Had they given him 30 seconds just to explain why he was there, had they given him a minute to corroborate his story, to walk 30 metres into the store to talk his grandfather about why he was there, all of this would have been avoided."
Although the family filed a formal complaint to the province's Special Investigations Unit, no one from the agency has contacted the Bola family. After the bystander who recorded the beating contacted the family and gave them a copy of the video, Bola decided to file a lawsuit on Wednesday against the department and the officers who brutally attacked him.
"No one would have believed us, we wouldn't be here today, nothing would have come out of it," Sonia Bola explained, noting the importance of the witness' video evidence.
While defending the officers' blatant use of excessive force, Pugash noted that the Office of the Independent Police Review Director (OIPRD) is investigating the police brutality.
Last year, Toronto Police Constables Piara Dhaliwal and Akin Gul arrested an innocent man and falsely charged him with assaulting an officer. Unbeknownst to the corrupt cops, his cellphone video of the false arrest was automatically uploaded to his Google account before they could delete it.