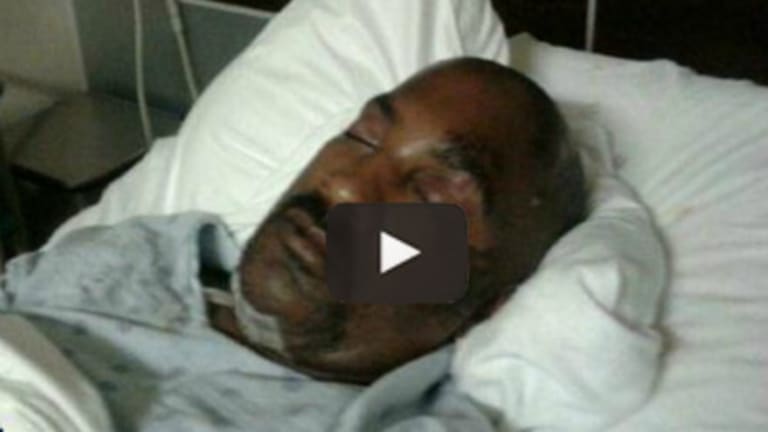 Cops Claim they Beat This Man Down to Save Him From a Drive-By Shooting
"Once he was on the ground it was a wrap. They beat him constantly and did not let off of him"
Mike Sawyer
July 26, 2014
An Michigan man was left hospitalized after a run in with Ecorse police Monday morning.
The victim, Allen Donald, had his right jaw fractured, his left eye orbit was broken and he needed at least a dozen stitches. It happened as officers responded to a domestic dispute between Seretha Greeley and her mother on the 3900 block of Seventh Street .
Despite Donald not being a suspect in any crime police demanded that he obey their orders, and he did, according to eye-witnesses.
"He throw his hands up like that? They taze him. He's stunned; they put him on the ground. Once he was on the ground it was a wrap. They beat him constantly and did not let off of him," says Greeley. "As soon as one of my friends [came] to take the baby out of his hand, they instantly walk up on him across the street. Three guys, two officers on the side, one in the front. One in the front [had] the Taser pointed at him. Instantly, as soon as they walk up on him, he throws his hands up like this. He's not resisting, he's not fighting back, he's not swinging, he's not doing anything."
During the altercation someone opened fire from a black Tahoe. The police claim that Donald suffered some of his injuries when officers tackled him to the ground to protect him from the gunfire.
However, witnesses claim that Donald was already on the ground before the shots were fired.
Allen Donald has hired civil rights attorney Wolfgang Mueller to represent him. "Ecorse has a history of abusing their citizens' rights and we plan to vindicate this gentleman's rights because there's no need for that. There's absolutely no need for what happened," Mueller says.
Ecorse Public Safety Director Mike Moore released this statement, "At this time we are aware of the allegations against our officers and it is our intention to have an independent investigation conducted by the Michigan State Police."

In the meantime, Donald is facing several charges including assaulting an officer and obstruction of justice.
The victim is planning on filing an official complaint as well as a lawsuit.
If and when Ecorse police are found to be responsible for violating the civil rights of Allen Donald, the burden of paying out the monetary damages will be placed on the backs of the tax-payers; just like the millions of dollars shelled out prior to this case in the name of abusive and incompetent cops.