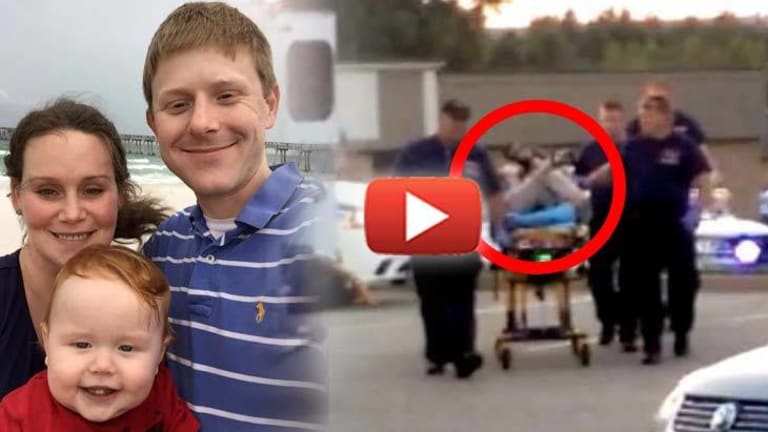 Cops Claim LSD Killed this Dad, but Autopsy & Video Confirms they Hogtied Him to Death
An independent autopsy has found that 30-year-old Troy Goode died from being hog-tied face-down for an extended period of time.
Southhaven, MS – An independent autopsy has found that 30-year-old Troy Goode died from being hog-tied face-down for an extended period of time. The Southaven, Mississippi police department tried to blame Goode's death on LSD, but there is no scientific basis for this claim.
As we reported in July, Goode and his wife attended a concert in Southaven where they took LSD. Goode began acting funny in a parking lot, and someone thought it was necessary to call the police.
The cops' answer was to hog-tie Goode and place him face-down, which is known to be a potentially deadly position.
Bystander footage shows Goode being hog-tied, thrashing around, and then being placed into an ambulance. Several onlookers state their disbelief that cops would place someone in this dangerous position, with one even saying it's good they are getting video "in case he dies." Goode was pronounced dead an hour after arriving at the hospital.
A friend of the family contacted the Free Thought Project and said that Goode was asthmatic and he was denied his inhaler. We were also told that cops threatened to arrest friends and family if they visited Goode at the hospital.
The family has never accepted the official story and believes that excessive force and the manner of restraint killed Goode.
Not wanting to wait six to eight months for a state autopsy to be performed, Goode's family had an independent one performed. Attorney Tim Edwards released the results at a news conference in Memphis.
He was suffocating. His heart increased into what is called tachycardia. There is no scientific basis to attribute his death to LSD.

This was lethal force, putting someone in a prolonged hog-tied position. This was not a situation where a 300-pound man attacked a police officer in the dark. This was a science nerd.

The toxicology report ... rules out any drug-related causes. That takes that off the table. LSD does not cause heart failure.
Edwards is seeking a civil rights investigation by the U.S. Department of Justice, and the family will file a lawsuit in January.
DeSoto County District Attorney John Champion declined to comment on the results of the independent autopsy. The DA and the police department will likely cling to the false excuse that LSD killed Troy Goode.
Southhaven Mayor Darren Musselwhite issued a statement defending the officers and said Goode posed a danger to himself and others. He also claims that Goode threatened officers and resisted arrest, and continued violent behavior in the ambulance. Musselwhite stated that Goode never said he couldn't breathe, but the video and bystander reactions indicate that Goods was showing signs of distress.
The autopsy found no evidence of pre-existing disease that would have caused the death, and there is no known case of a person dying from LSD overdose. Troy Goode was having a bad trip, but it was the cops' use of a dangerous restraint tactic that killed this husband and father.