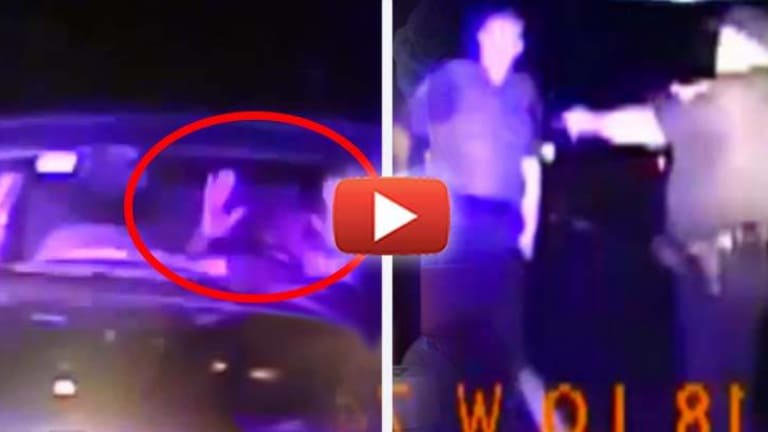 Cops Convicted of Conspiracy for Saying Man in Video with Hands Up 'Went for My Gun'
An innocent man would be rotting in jail and two lying corrupt cops would be free if video of the incident did not exist to prove the facts.
Newark, N.J. -- In 2012, Marcus Jeter was not breaking any laws, had no outstanding warrants, and had harmed no one when he was stopped by Bloomfield police officers Sean Courter and Orlando Trinidad.
Courter, who made the initial stop, was quickly joined by Trinidad, who came raging in like a bat out of hell, slamming his car into Jeter's car.
During the stop, Jeter complied with every order the officers gave him, including keeping his hands up the entire time. Despite his compliance, however, Courter and Trinidad smashed in Jeter's windows and dragged him from the car.
Jeter was charged with resisting arrest, aggravated assault and other offenses based on video from one of the officers' dashboard cameras.
However, Jeter acquired a second police dashcam video through an open records request. Combined, the videos showed him with his hands in the air for virtually the entire encounter, according to the Associated Press.
Immediately after the other dashcam was released, all charges against Jeter were dropped, and prosecutors charged Trinidad, Courter, and a third officer. The third officer, Albert Sutterlin, pleaded guilty in 2013 to falsifying and tampering with records which helped Trinidad and Courter in telling their lies.
Despite this confession from Sutterlin, Trinidad and Courter maintained their innocence.
However, on Thursday, according to the Associated Press, Trinidad and Courter were found guilty by an Essex County jury of conspiracy, official misconduct, tampering with and falsifying public records and lying to authorities. Courter, 35, and Trinidad, 34, face mandatory minimum prison sentences of five years when they're sentenced in January.
"They accused Mr. Jeter of criminal acts that led to him being charged and indicted," assistant prosecutor Berta Rodriguez, who tried the case, said Thursday. "He was facing five years in prison. But for the dash camera in the second police vehicle, he might be in prison today."
The fact that Jeter, an entirely innocent man, could be in jail today without the other dashcam is bone chilling. How many instances in which there was no camera have cops literally gotten away with murder for claiming the "suspect went for my gun"?
After the verdict was announced Thursday, bail was immediately revoked by Superior Court Judge Michael L. Ravin and both officers were remanded to county jail to await sentencing.
Laughably, an attorney for the lying criminal cops told The Star-Ledger that he disagreed with the verdict, and he maintains "100 percent convinced" that the officers, who were caught on video, in the act, are innocent.