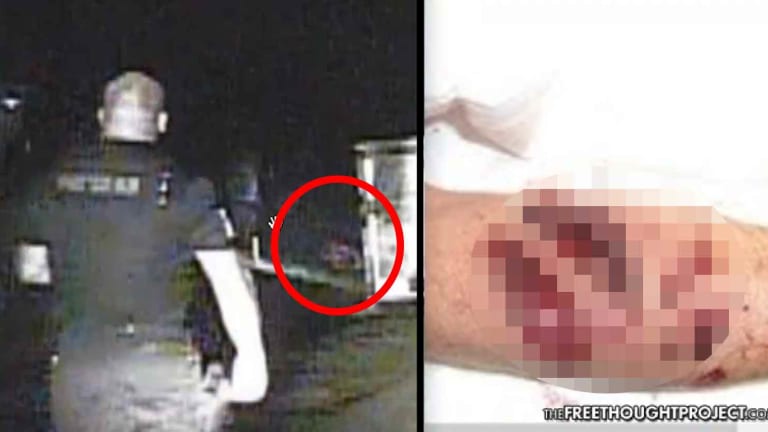 Cops Tried to Hide This Video Showing Them Taser Man, Knock Him Out, Force K9 to Maul Him
A Charlotte County Florida man was beaten by police and mauled by their K9. After the beating, the police charged him with battery, even though the videos clearly show he was more a victim than a perpetrator.
North Port, FL — Matthew Colby Poulin, 34, of North Port, FL was beaten, tased, and mauled by a police K9 after North Port Police officers said Poulin assaulted them. Video of the attack was captured on police dash cam and reveals a very different story than the one published in the Herald Tribune.
According to a press release published by the Tribune, Poulin attacked the officers, injuring four of them and also their trained attack dog. According to the newspaper's coverage of the October 2017 incident:
Matthew Colby Poulin, 34, was charged with battery on law enforcement officers and a firefighter, resisting arrest and offenses against a police dog.
He was allegedly high on drugs and had walked into the wrong house thinking it was his own home. The startled homeowner called police to investigate. But instead of subduing the intruder, one police officer walked up and punched Poulin in the head, knocking him out.
Another cop deployed his taser on the seemingly unconscious man, and then the attack dog was sent in. At no time during the video can Poulin be seen attempting to strike an officer, and he made no attempt to flee.
As TFTP has reported in the past, Charlotte County, FL has a sordid history with it's law enforcement officers and jail guards. In fact, former inmate Rob Tigro and fellow inmate Rodney McGee claimed to have witnessed two jailhouse murders.
In a TFTP exclusive, the two former inmates recounted their eyewitness accounts of abuse, neglect, and death, which the two men consider a murder, while they were receiving medical treatment in the medical wing of the Charlotte County Jail.
However horrific the scenes must have been for the two former inmates, they seem to pale in comparison to the beating of Poulin combined with the outright lies the Herald-Tribune seemingly published.
Not only was Poulin's crime a case of simple trespassing, but the police department may have covered up a much more serious case of civil rights abuses. It's unclear if police knew Poulin's past before they began beating him and allowing their attack dog to maul the young man.
In 2006, Poulin kidnapped a couple and their kids, tied them up with tape, beat the couple, and then robbed them of DJ equipment. For that crime, he was sentenced to 10 years in prison. At any rate, he paid for his crimes and may have paid for them twice as police brutally beat him.
Poulin has now been arrested again and will likely head back to prison. However, the charges do not fit the crime. The original homeowner who called the police to help Poulin find his way home refused to press charges. And the crimes for which he has now been charged do not appear to match up with the evidence: the dash cam videos. Those videos show Poulin being the victim of abusers with badges.
The problem of police brutality is so bad in Charlotte County an organization known as Charlotte County Cop Watch has taken to social media to highlight the abuses they say occur frequently in their county.