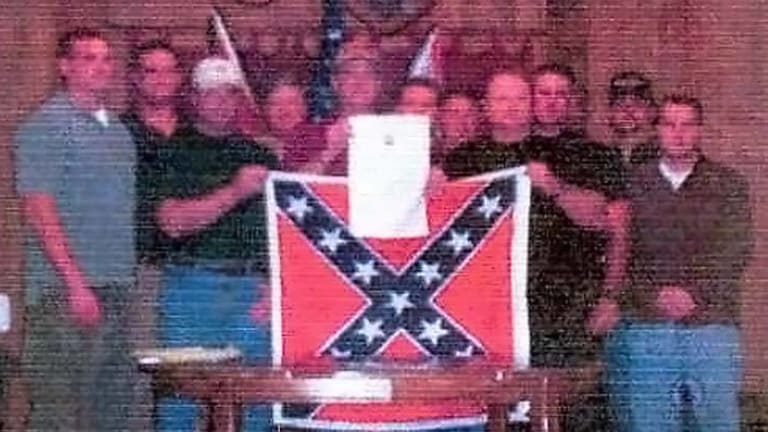 Cops Cross Thin Blue Line, Leak Info Showing Racist Officers Planted Drugs & Guns on 1,000 Black Men
Leaked documents reveal that an Alabama police department planted drugs and guns on innocent black men for years, and prosecutors helped cover it up.
Dothan, AL -- In one of the most shocking cases of badge abuse ever exposed, the Alabama Justice Project revealed that a ring of corrupt cops in the Dothan Police Department planted drugs and guns on hundreds of young black men for over a decade, in most cases resulting in their imprisonment. Their actions were aided by supervisors and covered up by the district attorney.
All of the cops were reportedly members of a racist Neoconfederate organization. Many of those involved have been promoted and now hold high positions in law enforcement, with two attending the FBI academy and one holding a position as adjunct professor at Troy University's Criminal Justice Program.
While the corrupt cops advanced their careers, the victims of their scheme were sentenced to prison and some still languish there today. It is believed that over 1,000 men were wrongfully convicted from planted drugs and weapons, while the district attorney's office raked in millions of dollars from court fees and the pre-trial diversion program.
In 1998, several honorable officers in the Dothan PD witnessed their colleagues' criminal behavior and tried to expose them, managing to initiate an internal investigation. However, the investigation was covered up by superiors and the district attorney. Since that time, awareness of police brutality and corruption has grown exponentially, and the whistleblowers believe there is now a better chance at serving justice and freeing those wrongfully imprisoned.
According to the Henry County Report,
The group of officers requested they be granted anonymity, and shared hundreds of files from the Internal Affairs Division. They reveal a pattern of criminal behavior from within the highest levels of the Dothan Police Department and the district attorney's office in the 20th Judicial District of Alabama. Multiple current and former officers have agreed to testify if United States Attorney General Loretta Lynch appoints a special prosecutor from outside the state of Alabama, or before a Congressional hearing. The officers believe that there are currently nearly a thousand wrongful convictions resulting in felonies from the 20th Judicial District that are tied to planted drugs and weapons and question whether a system that allows this can be allowed to continue to operate.
A letter detailing the criminal behavior was put on the desk of Dothan City Commissioner Don Clement, and the incriminating documents are being shared with attorneys at the US Justice Department's Civil Rights Division. Several officers have agreed to testify if the attorney general appoints a special prosecutor or if a Congressional hearing is initiated.
Notable names in the cabal of criminal cops include Michael Magrino, now an investigator for Alabama's Indigent Defense Fund, Carlton "Bubba" Ott, now commander of the criminal investigation division, Steve Parrish, current chief of the Dothan PD, and Andy Hughes, current director of Homeland Security for Alabama.
Magrino alone is responsible for at least 50 questionable prosecutions. The others listed above were aware of the internal investigation finding clear evidence of criminal wrongdoing, but worked to hide the findings. What's more, they forced out those in the department who tried to speak out about what was happening.
John White, police chief at the time, told senior officers to ignore complaints from black victims that drugs and weapons were being planted. District Attorney Doug Valeska ignored allegations by other officers that evidence was planted and kept the information from defense attorneys. Each of these instances is considered a felony.
"Internal Affairs Sergeant, Keith Gray, recommended that Magrino be immediately discharged and prosecuted, all of his previous cases reopened for investigation, and the judges and attorneys of those convicted be immediately notified. Gray believed there were hundreds of false arrests in the system by the group of officers, historically over a thousand.

However, at this point, our sources and the documents confirm the investigation was shut down, and the files ordered "buried" by Police Chief, John White, and District Attorney, Doug Valeska."
According to department and state policy, federal law enforcement authorities should have been notified of the results of the internal investigation, but that never happened. Instead, the planting of drugs and guns on innocent victims continued for years.
Chief John White has issued a series of false statements over the years which should have gotten him prosecuted. He repeated a lie in a recent letter sent to Dothan City Manager Jerry Gwaltney, saying "At no time previous, during or since, has any individual made an allegation that this officer planted or manufactured evidence or testimony in any case."
The disturbing actions of these criminal cops and their superiors shows how morally bankrupt humans can use the power of the state to destroy the lives of innocent people. But the news is made a little less painful by the noble actions of other cops, who cannot stand by as this kind of abuse goes on.
Now we can only hope that justice is brought to those deserving, and that freedom is given to those still suffering in jail.
Update: As reported by Atlanta Blackstar,
A Washington Post criminal justice writer raised some doubt about leaked report authored by Jon Carroll after it went viral. The writer was unable to confirm or disprove the damning allegations highlighted in the report. Carroll reportedly stated in an interview with Slate that he will release more of the 800+ documents over time and hopes to trigger a Justice Department investigation. Neither of which has materialized.

While the accusations are not yet authenticated, Dothan, Alabama is by no means vindicated of its inbred racism. The Washington Post listed some equally damaging findings in their criminal justice system that overwhelmingly impacts Black people negatively.