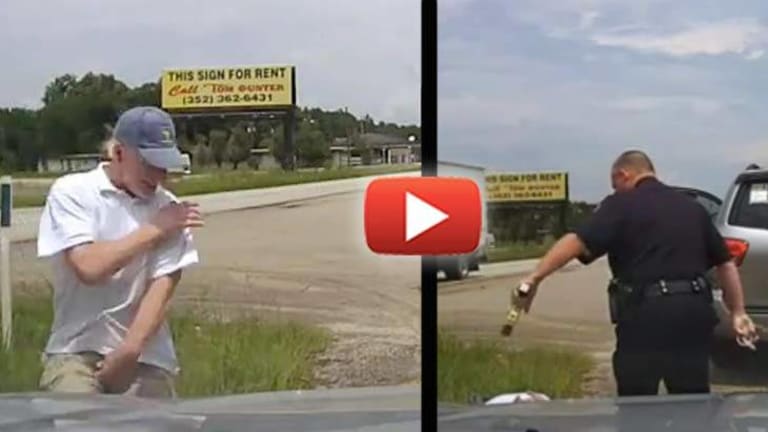 Cop's Dashcam Provides a Perfect Example of "Shoot First, Ask Questions Later"
A 60-year-old man, "armed" with sunglasses, was tasered with no warning after walking up to a police officer and stopping in front of his patrol car.
Bradford County, FL -- Dashcam video, posted by Bradford County Sheriff Gordon Smith to the department's Facebook page shows what shoot first and ask questions later looks like.
A 60-year-old man was stopped on the side of U.S. 301 and attempting to flag down someone for help when a Lawtey Police Officer responded to the scene.
Upon pulling up behind the man's silver Toyota, Officer Jay Raulerson began calling in the plates. When he exits the vehicle, the 60-year-old subject, who was in an obviously agitated state gets out of his SUV and begins walking in a swift fashion toward Raulerson.
This video will undoubtedly be interpreted differently by those who support this quick escalation to violence. The officer will no doubt be considered a hero for "quickly reacting to a dangerous situation." Those of us who question his actions will be told that we can't possibly understand how promptly these decisions must be made. We will be told that tasering this man was the officer's only option, as he was acting "aggressively."
However, it is clear that when the 60-year-old gets to the front of the officer's patrol car, he stops. Raulerson issues no verbal warning before deploying his taser into the chest of this man. The man is then rendered temporarily paralyzed and falls to the ground, before being handcuffed by Raulerson.
According to the police report, the 60-year-old man was described as "jumping from the driver's seat, placing his right hand out as if pointing a gun." However, at no time during this video are either of the man's hands positioned in such a way that they are threatening. He's "armed" only with his sunglasses.
This interaction is a perfect example of shoot first and ask questions later. The man stopped, he was standing there, unarmed and appeared ready to talk. However, he would not get that chance. Instead, he was arrested and transported to Meridian Behavioral Healthcare via Baker Act, a Florida law that allows police to hold people for a mental evaluation.
On the Sheriff's Facebook post containing the video was the following statement:
Recently, Lawtey Police Officer, Jay Raulerson, was confronted with a dangerous situation during a call to assist a motorist. Officer Raulerson was notified by passing motorists about a silver Toyota stopped in the median with the driver attempting to wave down vehicles. As he pulled up to render assistance, the subject suddenly exited his vehicle and aggressively approached Officer Raulerson. With literally seconds to decide his response, Officer Raulerson used a less than lethal tactic to bring the situation under control. After further investigation, the subject was taken into custody for a medical evaluation prior to pursuing any criminal charges.
Exactly what charges they could bring against this man based on the dashcam footage are unclear, as he didn't break any law prior to being tasered.