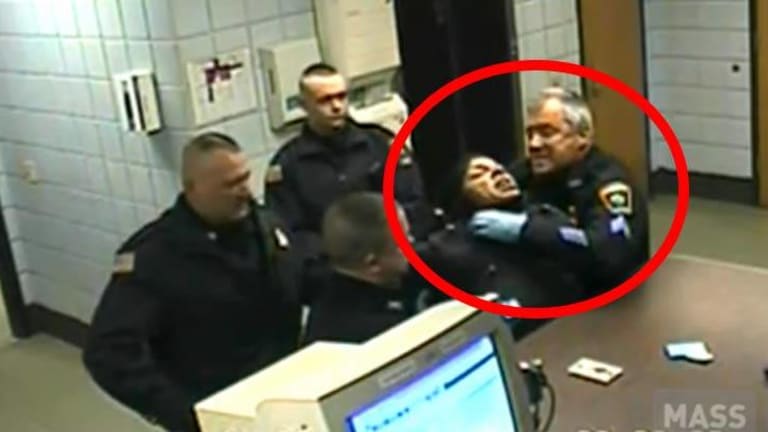 This Cop's Department said he "Acted Admirably" When he Strangled Non-Violent Handcuffed Woman
An "investigation" determined that the officer did not violate department rules when he tried to strangle a handcuffed woman. In fact, they praised him for it.
"Shut the f**k up!" yells the Seargent as he attempts to strangle a handcuffed woman into silence.
Chicopee, MA -- After a new chief took over the Chicopee police department, he released a video showing a former officer attempting to strangle a handcuffed woman.
Maylene Maldonado was being booked for an alleged assault on an officer when the incident took place in February 2013.
The officer who assaulted the handcuffed woman is Sergeant Daniel Major. Maldonado has since named Major in a $1 million federal lawsuit. 
Major is no longer employed by the CPD. However, it is unclear as to why Major is no longer with the department. The chief of staff for the mayor's office, Mary Moge, said she was unsure if Major was fired or resigned.
According toe MassLive.com,
The Maldonado case has sparked mixed reactions within the Chicopee Police Department's hierarchy, pitting the current police chief against the former acting chief. Chief William Jebb said Major acted inappropriately and turned over a copy of the booking video to City Hall officials. His predecessor, Thomas Charette, who was acting chief at the time of the incident involving Major and Maldonado, has defended Major's actions as appropriate in light of the circumstances
An "investigation" that took place after the choking determined that Major did not violate department rules when he attempted to strangle a handcuffed 100 pound woman. Not only did they say he did nothing wrong, but the department went as far as saying that Sgt. Major "acted admirably" by subduing a completely non-violent Maldonado.
Maldonado was only screaming for help with her piercing, which she said was causing her great pain. Instead of helping her, Major attacked her.
Since the release of the video, controversy in the department has grown. In the first hearing after the investigation, a ruling determined that Major should not face any charges.
However, according to MassLive.com, District Court Judge Maureen Walsh, who reviewed the police booking video over two dozen times, ruled that Major could be charged criminally.
Maldonado was originally placed under arrest after police stopped her for no reason. She was approached and detained for the suspicious act of running towards a gas station.
Upon being stopped by police, Maldonado failed to remain silent and thereby incriminated herself by admitting to the police that she had been drinking and smoking PCP.
When police tried to forcefully take her ID, she allegedly slapped one of the officers across the face and immediately apologized.
While Maldonado was wrong to slap one of the arresting officers, it can easily be said that she acted in self-defense. Remove the state's immoral war on drugs from the equation, and the officers become the aggressors.
Maldonado had harmed no one when police approached her. Her only "crime" was thinking she was free enough to put something into her own body and travel unmolested without being kidnapped or locked in a cage. Instead, here came the police to protect her from herself, by beating her up.
Below is the entire uncut video of Maldonado's booking process. Major's actions which prompted the federal lawsuit begin around the 5:20 mark in the video.