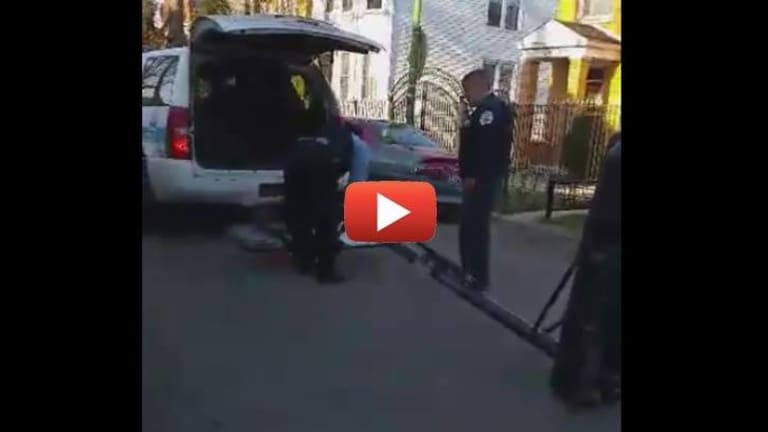 Who's Being Protected Here? Cops Destroy Kid's Basketball Goal, Drag it Off to Junkyard
No warning, no ticket, just smash and grab. This is what protecting and serving looks like in a police state.
Chicago, IL-- In a video posted to Facebook on April 2, two Chicago police officers are seen confiscating a basketball goal belonging to Diego Chavarria, 22, as he looked on and filmed the destruction of his property.
According to Chavarria, the incident took place on Thursday around 4:30 pm on West 26th and South Kedvale Avenue. The young man and his friend were playing a game in the street, when the police pulled up to harass them. Instead of telling the young men to move the game to a safer area, or into their own yard or driveway, the officers not only confiscated it, but destroyed the rim, beating it against the ground as if it was an unarmed citizen.
"They said we can't play outside like that," Chavarria told The Free Thought Project. "They said they were going to take it to the junk yard."
When asked if he intends to file a complaint against police for the destruction and theft of his property Chavarria told The Free Thought Project that he plans to do so on Friday.
This sadly isn't the first time that we have had to cover ridiculous police enforcing a totally arbitrary law against a community having fun.
In May of 2014, we covered a nearly identical situation of police arresting a trouble making basketball hoop in Cleveland, Ohio.
The incident, which was also captured on video, showed the police taking off with the basketball goal despite the owner asking if she could just move it. The kind-hearted woman had reportedly bought the hoop as a gift for her neighbors. Cell phone footage shows that the woman asked if there could be a warning- to which an officer answered, "There's nothing I can do."
Who exactly are these cops protecting and serving with this nonsense?