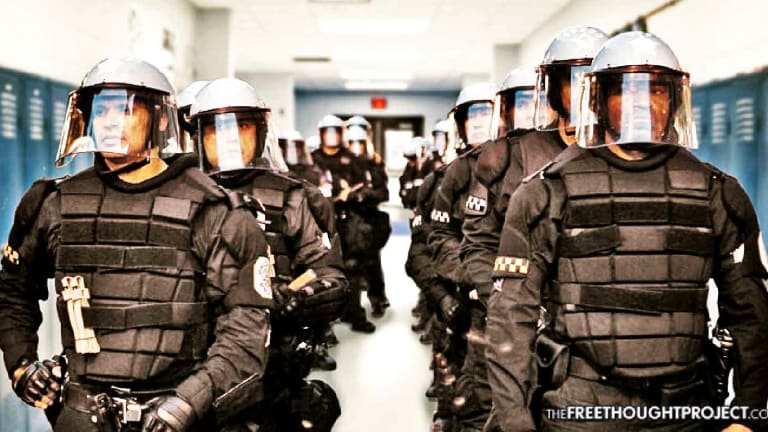 Cops Detain Entire School, Illegally Search/Grope 900 Kids — Find NOTHING, Parents Furious
As for the 900 counts of deprivation of rights under the color of law that the sheriff should be facing for the school search — not a single charge.
Worth County, GA — Children feel violated, parents are furious, and a lawsuit is getting filed after the Worth County Sheriff's office conducted an illegal search of 900 students — in the name of the war on drugs. The rights-violating intrusive and aggressive patdowns and drug dog searches yielded absolutely nothing.
On April 14, when the students of Worth County High School returned from spring break, they arrived at school to find a police state had taken over. The sheriff and his deputies — with no probable cause — detained and illegally searched every single child in the school, all 900 of them.
When kids went home that day to tell their parents what happened, naturally, they were furious as it is a gross violation of the children's 4th Amendment rights.
"It's essentially a fourth amendment violation," said attorney Mark Begnaud. "It's 900 illegal searches, suspicion-less pat downs, suspicion-less searches."
Naturally, Sheriff Jeff Hobby is standing by this rights violation on a massive scale, noting that as long as a school administrator was present, the search of the children was legal.
Apparently, in the sheriff's mind, school administrators can usurp the constitutional rights of children in favor of unlawful police searches.
But school officials and the student rule book disagree.
In the student handbook, it says school officials may search a student only if there is reasonable suspicion the student has an illegal item.
As WALB reports, Worth County Schools attorney Tommy Coleman said in order for the Sheriff's office to search any students, they'd had to have reason to believe there was some kind of criminal activity or the student had possession of contraband or drugs.
"If you don't have that then this search would violate an individual's rights," said Coleman. "[It] violates the constitutional right and enforcing them the right against unreasonable search and seizures."
Interim Worth County Superintendent Lawrence Walters said he understands parents concerns about the drug search at Worth County High school on Friday, according to WALB.
"I've never been involved with anything like that ever in the past 21 years and I don't condone it," said Walters.
Walters said he was notified that there was be a search but pointed out that he did not give permission nor did he approve the mass groping of children.
"We did not give permission but they didn't ask for permission, he just said, the sheriff, that he was going to do it after spring break," said Walters.
"Under no circumstances did we approve touching any students," explained Walters.
Adding insult to injury, many students complained that they got far more than just a pat down.
At least one deputy's searches were found to be "too intrusive."
According to Hobby, it was later discovered that one of the deputies had exceeded instructions given by Hobby and conducted a pat down of some students that was considered to be too intrusive.
When multiple students complained about being groped by the intrusive deputy, Sheriff Hobby ensured parents and school officials that "corrective action was taken to make sure the behavior will not be repeated."
Exactly who that cop was and what 'corrective action' was taken, remains a mystery.
"I'm okay with them doing the search, if it was done appropriately like the school has done in the past," said father of two Jonathan Luke. "But when they put their hands on my son, that's crossing the line." 
Aside from not finding a single bit of contraband, the sheriff's search was also entirely uncalled for as the Sylvester Police Department did a search on March 17 — just a few weeks before — and found no drugs.
But Hobby told reporters he didn't think that search was thorough enough, so he decided to do his own. And, this time, he'd grope every student.
Now, many of the parents are planning a lawsuit against the Sheriff's office which will likely be the only means of holding this man and his department accountable.
As for the 900 counts of deprivation of rights under the color of law that the sheriff should be facing, not a single charge has been levied against the department.
This is what school has become in a police state.