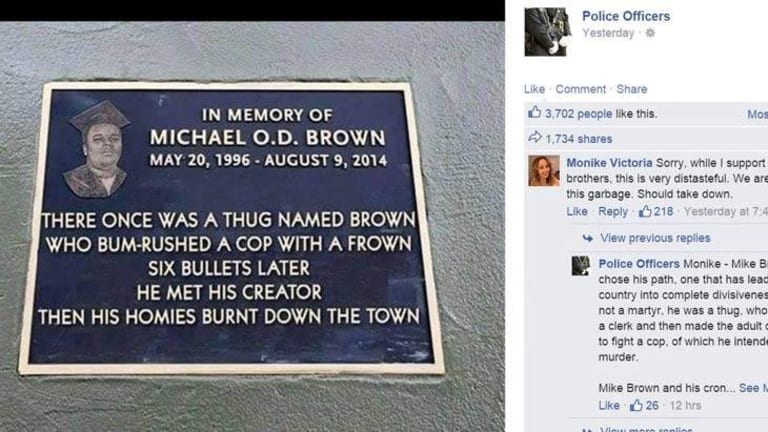 Cops Make Disgusting Fake Memorial Mocking the Killing of Michael Brown by Darren Wilson
One of the largest pro-police pages on the internet created a revolting fake memorial that mocks the death of Ferguson teen, Michael Brown.
Ferguson, MO - One of the largest police pages on Facebook posted an extremely divisive picture, which is sure to inflame already fragile police-community/race relations in Ferguson, Mo. and beyond. Surprisingly, the fake picture has received a large amount of blowback from law enforcement officers, despite the thousands of repugnant cops who liked and shared it.
The insulting picture is that of a fake memorial to Michael Brown, the teenager killed by Darren Wilson, which reads:
There once was a thug named Brown,
Who bum-rushed a cop with a frown,
Six bullets later,
He met his creator,
Then his homies burnt down the town
The irresponsibility of a page that claims to represent and support cops, in posting something so shallow and disrespectful, regarding someone killed by an officer, shows a supreme ignorance and continual lack of understanding, regarding community relations and dealing with the public.
Regardless of one's feelings about the details of the case, taunting the dead youth's family and supporters is an act of divisive ignorance, which serves to only further a massive division between the police and the public.
A number of cops commenting on the disgusting picture expressed their displeasure with the post, with many requesting that it be taken down.
When cops make light of a person's death, which came at the hands of law enforcement, they only serve to turn more people against them. Regardless of how you feel about Ferguson, taking jabs at the dead is bad form.
With the profession of policing already in the midst of a crisis, and many Americans beginning to awaken to the reality of excessive police brutality, abuse of authority and violations of basic constitutional rights as a standard occurrence, one would think law enforcement would be more apt to build bridges than to burn them.
Jay Syrmopoulos is an investigative journalist, free thinker, researcher, and ardent opponent of authoritarianism. He is currently a graduate student at University of Denver pursuing a masters in Global Affairs. Jay's work has been published on BenSwann's Truth in Media, Chris Hedges' truth-out, AlterNet and many other sites. You can follow him on Twitter @sirmetropolis, on Facebook at Sir Metropolis and now on tsu.