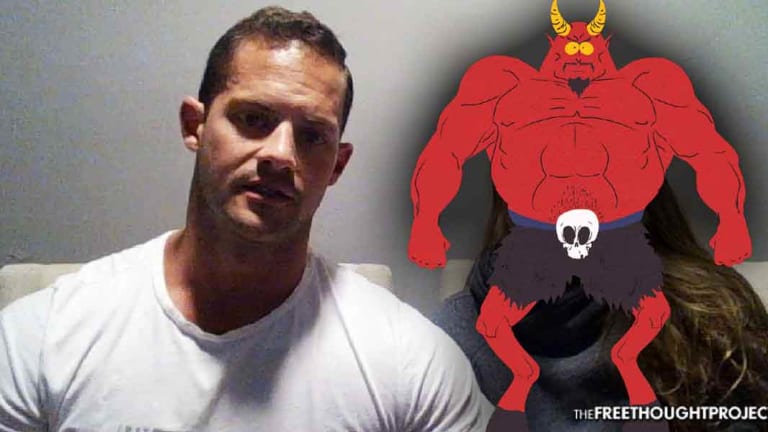 WATCH: Cop Apologizes for Selling Drugs, Ruining Lives, Says Satan Made Him Do It
What do you do when you get caught ruining people's lives by arresting them for marijuana to sell it for yourself? Blame satan, naturally.
Kern County, CA — As the free Thought Project previously reported, Kern County Sheriff's Deputy Logan August was recently arrested for stealing drugs from raids and selling them back on the streets.
This type of case occurs on a near daily basis. However, what makes the situation with August particularly interesting is the fact that he released a video shortly after his arrest, blaming satan for his actions.
In the video, titled "I'm sorry" August said, "I want to first of all just express how sorry I am to the residents of Kern County and Bakersfield and especially to all the partners that I have with the Kern County Sheriff's department and all the partners in the Bakersfield city Police Department. And anybody I ever worked with, anybody that wears the badge that I disgraced."
August went on to say that "I made that decision based on Satan playing games with me,and making me feel like I was prideful and unable to go to family members for help."

August explained that he pled guilty to his crimes and accepted responsibility for his actions, despite blaming them on satan.
Apparently, this cop was fostering a long-standing relationship with 'satan' as he'd been running this racket for quite some time.
August has a history of using the power of the state to oppress others and profit from it. According to the court document, he routinely participated in "marijuana eradication operations," only to turn around and sell the stolen plants for hefty sums.
"On 10 separate occasions between March 2014 and December 2014, August wrongfully took marijuana from a law enforcement eradication operation for personal gain. August distributed to his former confidential informant the equivalent of 25 pounds of usable marijuana wrongfully taken from these law enforcement eradication operations. August received $15,000 from the sale of this marijuana."
In a shocking comment late in the video, August admitted, "I am despicable and I am a piece of crap and that is me in this world."
August sat beside his wife in the video and he seemed to be using her as a prop, constantly looking to her every few seconds.
He also said that he plans on being a "light in a dark place" and that he will attempt to "save" as many men on the inside as possible.
Before closing his statement August evoked the devil again, stating that, "I hope that if you guys are in a place in law enforcement or if you family members that are in law enforcement, I pray that you guys would pray for them every single night and you pray against these demons that they are in contact with every single day and the opportunities that come up, i pray that you guys would pray for them to be strong and that you would have them make good decisions."
It is not clear whether or not August will be entering an insanity plea, but this could possibly set him up for such a defense. August is facing up to five years in prison and a $250,000 fine. However, it has been reported that prosecutors will not be seeking the maximum penalty, which is typical when police break the law.
August did not work alone either, according to court records, during the summer of 2014, August worked secretly with Deputy Derrick Penny to rob drug dealers and sell the product back on the streets, bringing in nearly a quarter-million dollars in profits.
Penny has already been convicted and is currently serving a 5-year prison sentence. The officers were also caught stealing drugs from the evidence room at the police department.
Judge Lawrence O'Neill, who will be overseeing the case has a history of giving police officers light sentences. Just last year he gave reduced sentences to former police detectives Mara and Damacio Diaz when they were charged with similar crimes.