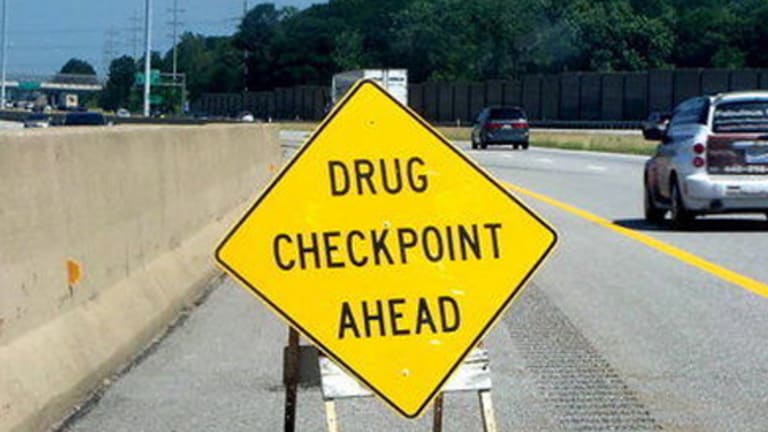 Cops Fake Illegal Drug Checkpoints to Detain and Search Drivers who React to the Sign
In Mayfield Heights, Ohio, checkpoints to search for drugs are illegal, so the crony cops have decided to try another way to violate the peoples' freedom from unreasonable search; fake drug checkpoints.
The sign says it's a drug checkpoint but it's not. (Courtesy of Bill Peters)
According to Cleveland.com, police gathered in the express lanes of Interstate 271 after placing signs along the freeway warning motorists that a drug checkpoint lay ahead.
There was no checkpoint, only police waiting for motorists to react suspiciously after seeing the signs. A Mayfield Heights assistant prosecutor says it's a lawful and legitimate tactic in his city's war on drugs.
"We should be applauded for doing this," Dominic Vitantonio said. "It's a good thing."
Lying, abusing, and twisting the so-called law, should "be applauded"? Welcome to the prison nation, slave.
James Hardiman, the Legal Director of Ohio's ACLU, said,"Mayfield Heights police may believe they have concocted a scheme that allows them to circumvent the Constitution, but they are mistaken."
He continued, "Americans have a fundamental right to be free from unreasonable searches and seizures, and courts have been clear that random drug checkpoints like Mayfield Heights' are illegal."
The ACLU has since written a letter to Mayfield Heights PD decrying this clear rights violation.
This is yet another example which illustrates the blatant rights violations stemming from the war on drugs. Cops believe someone reacting to a sign about a fake and illegal checkpoint gives them probable cause to detain and search that person.