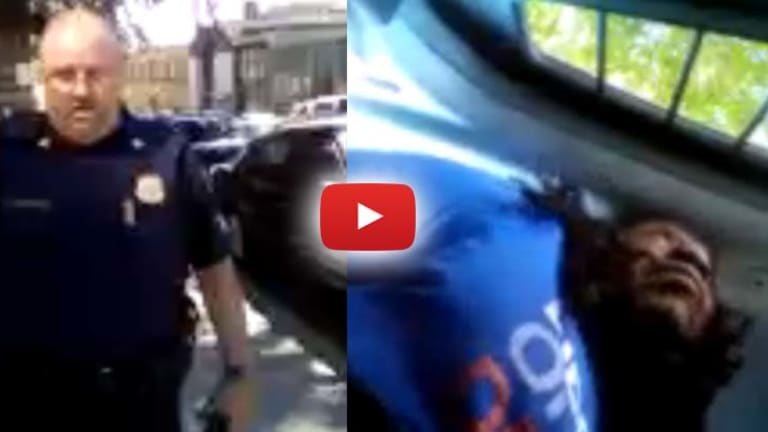 Cops Falsely Charge Activist for Showing them Breaking the Law -- Video Tells the True Story
After he catches them breaking the law, cops falsely charge activist -- the live video, however, shows the truth.
Bridgeport, CT -- DonTrell Brown knows his rights, the law, and the importance of practicing them. However, this exceptional ability often makes him the target of police retaliation.
In a disturbing video, live-streamed by Brown yesterday, the activist was harassed and arrested despite having committed no crime.
As the video begins, Brown is approached by Bridgeport police officer Sgt. Meszaros. Brown called the Bridgeport police department's non-emergency phone number to report two illegally parked police cars.
Clearly agitated by a citizen pointing out the double standard and above the law nature of police, Meszaros asserted his authority through a glaring act of intimidation.
"I need to see your ID," Meszaros said -- spouting out the modern version of "Ihre Papiere, Bitte!" (Your papers, please.)
Brown, however, resolute in the fact that he had not committed a crime and was not suspected of committing a crime, politely declined.
As the video continues, Meszaros attempts to claim that it is now the law that citizens, innocent or not, are forced to show their permit to carry a pistol -- even when there is no reasonable articulable suspicion.
Meszaros is referencing H.B. 5408, a tyrannical law that passed the Public Safety Committee last March but failed to make it into law by the end of the legislative session on May 4.
The bill would require the holder of a permit for the carrying of any pistol or revolver to present such permit upon request of a law enforcement officer.
"I'm going to ask you one more time — I need to see your permit," says Meszaros as he begins to posture into a stance to deprive Brown of his freedom. And, just like that, Brown was arrested.
When police took the story to the press, their version was entirely different than what the video shows. However, that didn't stop the CT Post from running with it.
A Waterbury man's attempt to challenge efforts to reform the state's open-carry gun law backfired Thursday when, police said, he tried to bring two loaded handguns into the Golden Hill Street courthouse.

Police said Dontrell Brown was arrested after he left the loaded handguns on the front steps of the courthouse.

He was charged with interfering with police, breach of peace and failing to produce a valid gun permit based on reasonable suspicion. Police Capt. Brian Fitzgerald said more charges may be levied against Brown as an investigation into the incident ontinues.

"It was crazy," Police Chief Armando Perez said.
Police claim Brown walked to the front of the courthouse, called 9-1-1, reported he had loaded guns, and said he was going to come in. According to police, they say Brown then began recording and laid down his guns on the front steps of the courthouse.
In the video below, we hear nothing about Brown allegedly placing weapons on the steps of the courthouse as the reason for his arrest. Had Brown actually done this, you can rest assured that he would have been met by a dozen militarized SWAT team officers.
To back up Brown's side of the story as well, at 5:04 in the video, the officer confirms that Brown's weapon is, in fact, on Brown and not on the steps of the courthouse.
Also in the video, Meszaros confirmed that staff notified him through the non-emergency line, not 9-1-1.
Sources close to Brown tell the Free Thought Project that there is absolutely no way Brown would ever do something of that nature. Brown is an activist who knows his rights and would never do something so ill-advised, according to our sources.
Also, this video is entirely unedited as it was live-streamed through the Bambuser app.
However, that did not stop police from throwing Brown in a cage.
On Thursday, activist Kory Watkins tells the Free Thought Project that they organized a massive protest of calls into the Bridgeport police department. This protest eventually led to the Bridgeport police shutting down the phone system.
Below is a video of why it is so important to practice your rights -- they are being incrementally stripped from us daily.

[author title="" image="https://tftpstagingstg.wpengine.com/wp-content/uploads/2016/03/magorist-e1456948757204.jpg"]Matt Agorist is an honorably discharged veteran of the USMC and former intelligence operator directly tasked by the NSA. This prior experience gives him unique insight into the world of government corruption and the American police state. Agorist has been an independent journalist for over a decade and has been featured on mainstream networks around the world. Follow @MattAgorist[/author]