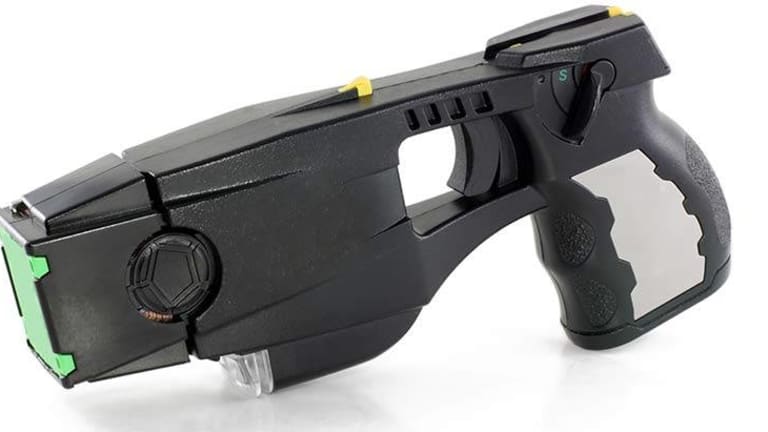 Elderly Man's Diabetic Emergency Caused Cop to "Fear for His Safety" - Tases Him, Twice
Luckily for this 78-year-old, a firefighter showed up who knew what a diabetic attack looked like and put an end to the assault.
Portsmouth, NH-- An officer claims he feared for his safety when he used a stun gun on a 78-year-old man having a medical emergency, which caused him to crash into several cars.
The elderly man is diabetic and had low blood sugar when he reportedly crashed his vehicle into multiple parked cars in a Portsmouth parking lot. The officer reportedly commanded the man to stop, before he crashed into another vehicle and crashed into the police car. The officer claims the disoriented driver went to reach for something on his seat, causing the cowardly officer to tase him- twice.
"The officer, believing the car was now in park, attempted to pull the 215-pound driver from the car," MacDonald said. "However, he was unsuccessful and the vehicle continued to move as it was in neutral. The officer drew his Taser and advised the driver several times that he was under arrest and to get out of the car, but he refused," Deputy Portsmouth Police Chief Corey MacDonald told Seacoast Online
Firefighters who responded to the scene after the tasing recognized that the man was weak and determined that he was diabetic and suffering from low blood sugar. Thanks to the heroic firefighters who are clearly better trained than the police, the elderly gentleman was treated to raise his blood sugar and was brought the hospital for treatment. He was ultimately not charged with any crime.
The department is currently defending the actions of the jumpy officer and has compared having a medical condition to driving under the influence of alcohol or drugs.
"Our police officers are not paramedics. They are charged with bringing dangerous situations under control. This driver could just as easily have been under the influence of alcohol or drugs, or engaging in willful criminal conduct," Deputy Chief McDonald said.
Damage to all vehicles was minor, and the incident was forwarded to the "Use of Force Review Committee." No formal review is currently underway.
Police assaulting people during medical emergencies is, unfortunately, more common than you may think.
Last January, a 70-year old diabetic was brutally attacked by SAPD police at a traffic stop because they had suspected him of being drunk. However, the man was not drunk but was feeling ill and experiencing a diabetic attack.
In November, an epileptic woman from California was attacked by police and arrested after she called 911 to report that she was having seizures and needed medical attention. When the police arrived, the woman was still having seizures and was, for this reason, unable to respond to their commands. The officers left massive bruises all over her face from attempting to beat her into submission.
In the same month, an officer was caught on surveillance camera while assaulting and threatening to kill a man who had called 9-11 over chest pains he was having. The man suffered from a heart condition and believed he may have been having a heart attack.
From forcing women who are in labor to the ground at gunpoint for speeding to the ER to firing flash bangs at a woman believed to be having a heart attack, the stories of these abuses are endless.
How many of these "isolated incidents" will go unpunished with a simple "oops, our bad." before we demand change?