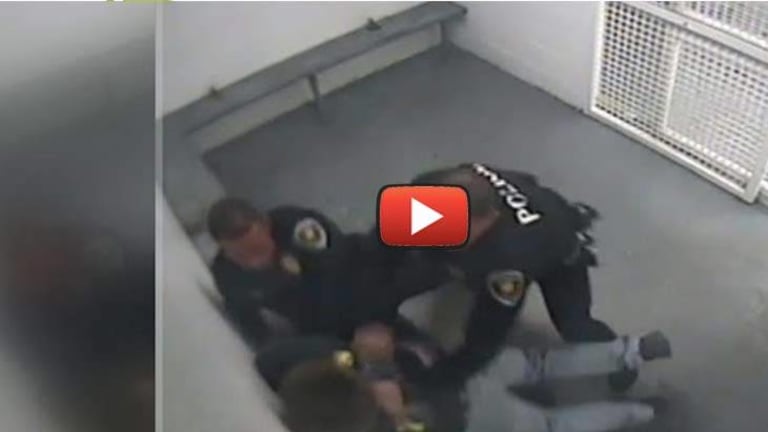 Video Exposes Lying Cops After they Break Handcuffed Man's Skull Open & Claim he Did it to Himself
Lying cops said this man beat his own head against the wall leading to his extended stay in ICU. Had the camera not been rolling, that's what everyone else would have believed too.
Las Cruces, NM-- A New Mexico man is suing the city of Las Cruces for 12.5 million dollars after a vicious assault that left him in the ICU for days was captured on video in December.
Russ Flynn was arrested for allegedly pointing a rifle at one of his neighbors over a squabble regarding a parking space. The police claim he was ignoring the officer's commands when they arrived at the scene. While his arrest may or may not have been justified, what happened next most certainly was not.
In the video, the handcuffed Flynn is seen kicking the cell door in frustration, and his attorney says he did mouth off to the officers. Having to prove how tough they are, Officers Richard Garcia and Danny Salcido then barge into the cell and begin beating the defenseless man.
They throw him against the wall and start viciously abusing Flynn, even throwing him across the floor into the cell's bars. The attack was so violent that Flynn's skull was fractured.
To add insult to injury, Officer Garcia wrote in his report that fully contradicts the video, that Flynn fractured his own skull.
"[Flynn] was walked back all the way where he did hit his back and head against the wall," Garcia lied.
Garcia then went on to say that he used knee kicks "to distract him from grabbing at the officer's belt." Apparently Flynn is magic and can threateningly grab an officer's belt with his hands handcuffed.
It also says that at one point, Flynn pinned the officer between him and the wall, yet another thing that we certainly do not see as we watch the video of the assault.
"It's absolutely shocking. It was a vicious attack on Mr. Flynn," attorney Christopher Cardenas with the Lahann Law Firm, which is representing Flynn, told KRQE. "Mr. Flynn was handcuffed. He was already in police custody. So he was posing no threat to the officers."
Cardenas is currently pushing for criminal charges to be filed against these officers, and the department says that the incident is under investigation.