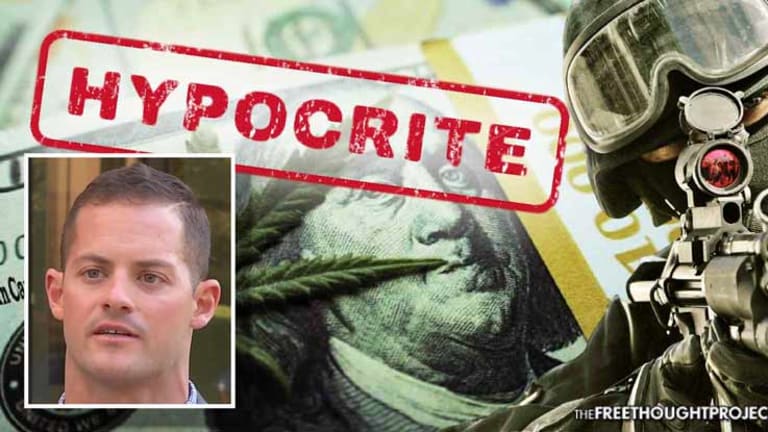 Cops Plead Guilty to Stealing and Selling Drugs, Flex Blue Privilege—Will Not Go To Jail
In a blow to justice and a nail in the coffin that is police accountability, two drug dealing cops avoid any real punishment for pleading guilty to drug conspiracy.
Fresno, CA — In a massive blow to justice and a nail in the coffin that is police accountability, two former cops who pleaded guilty to arresting people for drugs, stealing those drugs, and selling them for themselves, will not see a single day behind bars.
As the Free Thought Project reported in May, former sheriff's deputies Logan August and Derrick Penney pleaded guilty to a massive conspiracy in which they would arrest people for selling drugs only to turn around and use those drugs to enrich themselves.
According to a press release from the U.S. Attorney's Office, Eastern District of California, August and Penney conspired with a former detective to steal several pounds of cannabis from storage and sell it through a confidential informant.
"According to court documents, between June 2014 and October 2014, while sworn peace officers working with the Kern County Sheriff's Office (KCSO), August and Penney abused their positions of trust and authority by conspiring with former Bakersfield Police Department detective Patrick Mara and an individual who previously worked as a confidential informant for August, and others, to steal marijuana from a KCSO storage unit and sell it for unlawful personal gain."
August and Penney pleaded guilty to conspiracy to distribute and possess with the intent to distribute marijuana, and they were facing a maximum penalty of five years in prison and a $250,000 fine. However, as yesterday's sentencing showed, they will spend no time in jail and will pay no fines.
As Bakersfield now reports, in a candid exchange with August, Judge Lawrence O'Neill admitted he was convinced during August's plea to go against his initial judgment.
"As a judge, I have to ask, 'Is this person sorry more because he got caught or because of what they did?' I'm convinced you're sorry because of what you did," he said. "When I entered the courtroom, I intended to say in this case that when an officer breaches the law, it is a prison case, not a probation case."
However, that was not the case.
When those who are tasked with enforcing the law are caught breaking that law, they should be held to a higher standard than regular citizens. But, in law enforcement, it is the opposite.
"I'm just appreciative of that, because I get a second chance with my children, I get a second chance as a husband, and as a community member in Kern County," August said.
Sadly, for the people August arrested and robbed of their marijuana, they will not get a second chance. The people August and Penney arrested and threw in a cage did not break any public trust, they were simply selling a plant to willing customers. It was Penney and August who betrayed the public, yet they are the ones walking free.
August has a history of using the power of the state to oppress others and profit from it. According to court documents, he routinely participated in "marijuana eradication operations," only to turn around and sell the stolen plants for hefty sums.
"On 10 separate occasions between March 2014 and December 2014, August wrongfully took marijuana from a law enforcement eradication operation for personal gain. August distributed to his former confidential informant the equivalent of 25 pounds of usable marijuana wrongfully taken from these law enforcement eradication operations. August received $15,000 from the sale of this marijuana."
If the common citizen was busted for conspiring to sell 25 pounds of pot, rest assured they would be rotting in a jail cell right now. In fact, TFTP has reported on countless stories of SWAT raids in which people were shot or killed that recovered only a few grams of cannabis. However, if you are on that thin blue line, rest assured, you can commit the same crimes that would land the common man in jail while never worrying about doing any time.
"Your profession, that's gone. The pension is gone. The respect is gone," said the judge. However, unlike all the people August and Penney busted to profit for themselves, their freedom is not gone.