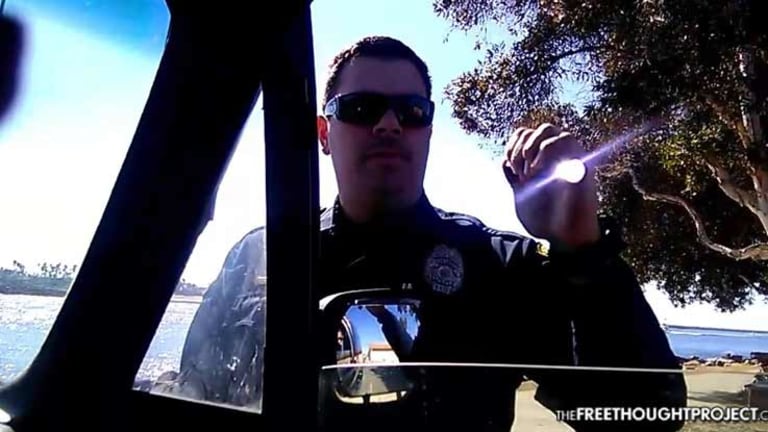 Well-Informed Citizen Owns Rookie Cops, Proves He Knows the Law Better Than Them
When a man was harassed by police, he demanded to speak to a sergeant who admitted that he was targeted because he was sitting in his car in a parking lot.
San Diego, CA — "Mexican standoff! Develop a sense of humor," Nodier Taveres told a pair of San Diego police officers who attempted to trample his rights as he quietly parked at a bayside park. Tavares, a Mexican national, found himself face to face with two of San Diego's finest, standing outside of his car and demanding to see his drivers license—a demand which he refused.
"Kolender vs. Lawson...the Supreme Court ruled that you have to articulate a reasonable suspicion of me breaking the law which gives you probable cause to ask me to identify myself," Taveres told the officers.
"Well it's illegal to live out of your car on public property...says the city of San Diego," the officer responded.
"Is that right?" Taveres asked, presenting the invalidated code in which the city attorney told the city of San Diego you cannot ticket someone for living in their car.
"I'm having fun, I tell you that right now...I got two rookie cops," he stated while demanding a supervisor be present. The cops then turned their attention to the contents inside of Taveres' custom van. First, he stated there were open containers of alcohol, then he said he smelled marijuana—all false claims, according to Taveres.
"You guys lie...don't bullshit me," Taveres said as he called the officers out for attempting to say they saw alcohol and smelled marijuana. He also criticized them for hiding their body cameras behind the side view mirrors to keep from showing the entire interaction.
"Thank you for not cussing. You are beautiful. You're doing a great job," a female's voice can be heard in the background. While cool and composed during the entire incident, the man eventually got his wish and spoke with a sergeant.
Again, Taveres presented case law to the law enforcement official, who also appeared to be unaware of the landmark Supreme Court decision. After a few moments of discussing the details of the unjustified police contact and demand for the presentation of identification, the sergeant invalidated the officers' claims that living out of one's car is illegal.
The sergeant wanted to focus his attention on "criminal activity," which takes place in the parking lot and that the officers have probable cause to make contact with citizens in the parking lot.
"The most common thing is probably drug use...so that's why we're here," he said. "But you're in the parking lot that has that problem. So, therefore, you're part of the parking lot."
"So here's the deal..they're just out doing their job...and the other big problem we have is people living out of their cars...which is not a crime," he said. Taveres interjected, "Can you let them know that?"
The sergeant asked Taveres why he had a problem with identifying himself and he simply responded, "Cause that's my right!" 
The sergeant's request does raise the question of why Taveres should be required to identify himself simply because a law enforcement officer feels compelled to interrupt his peaceful day at the park to force his will upon the citizen?
For those who are unaware, the City of San Diego is embroiled in a controversial push to rid the city of individuals who live in their cars, on the streets, and are homeless. The hastily erected structures which homeless have made to protect themselves from the elements have been demolished, pets stolen, and belongings destroyed, as TFTP has documented.