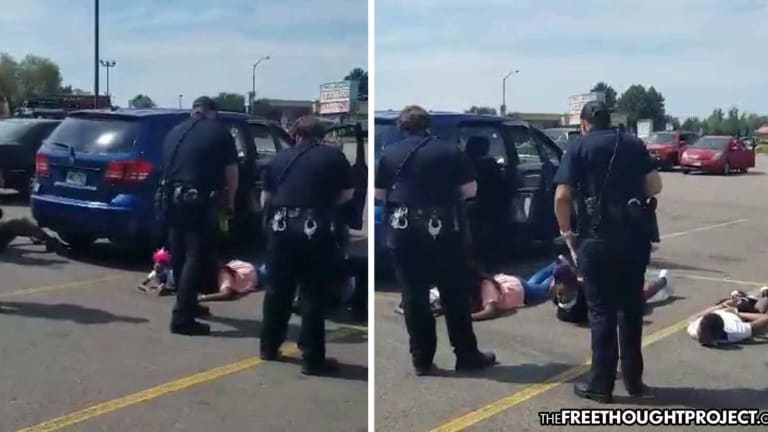 WATCH: Cops Accuse Family of Stealing Their Own Car, Hold Tiny Kids at Gunpoint, Cuff Them
An innocent family was accused of stealing their own car, forced out at gunpoint, forced tace-first on the ground and handcuffed.
Aurora, CO -- In his last few words on this planet, an aspiring massage therapist from Aurora, Elijah McClain could be heard saying, "I'm an introvert. I'm just different. That's all. I'm so sorry. I have no gun. I don't do that stuff. I don't do any fighting. Why are you attacking me? I don't even kill flies! I don't eat meat! But I don't judge people, I don't judge people who do eat meat. Forgive me ... I'm so sorry."
He was innocent, successful, and a light in this often dark world, and Aurora police killed him for being different. Then, after they killed him, they went back to the scene of the crime and reenacted it for fun. This is not some case of a bad apple. This is systemic and sadistic and now that same department is in the news once again -- this time for holding an innocent family at gunpoint and forcing them all to the ground because of their own incompetence.
Brittany Gilliam was parked in a nail salon parking lot over the weekend and was looking on her phone to find another one since this one was closed. As she scrolled down her phone, Gilliam and her family quickly found themselves surrounded by cops who ordered them out of the car at gunpoint.
Aurora cops accused Gilliam and all of the children in the car of stealing that car. But there had been no theft and it was police negligence that led to small children being held at gunpoint and forced to the ground.
As CBS Denver reports, Aurora police say they conducted a high-risk stop because of a suspected stolen vehicle. Gilliam's car had the same license plate number, but wrong state, for the vehicle officers were looking for. Gilliam says her 12-year-old sister and 17-year-old niece were handcuffed while lying on the asphalt of the parking lot. A 14-year-old niece and her 6-year-old daughter were also obeying police commands to lay on the ground.
"He proceeded to handcuff me and I saw him handcuff the kids, so I started getting angry why are you handcuffing kids for," Gilliam said.
The woman who filmed the encounter says she was shocked to see the officers holding small children at gunpoint and forcing them to the ground and then begin handcuffing them.
"I actually didn't know what I was watching when I first started seeing what was happening. I'd never seen a gun that close," said Jenni Wurtz who witnessed the incident and recorded it. "I went from seeing kids in a car to seeing a gun pointed at the kids in the car. I called my husband and said 'I don't know what I'm looking at,' and he said 'Hang up and start recording.'"
"They were screaming for their mom and again, this was all a big misunderstanding, so in their mind they're getting their nails done. It was all happening so fast and something about it was like, this is not right. These kids have no idea what is happening," Wurtz said.
"I'm livid. I'm angry," said Gilliam. "Those kids are not OK. They're never going to be OK. That was a traumatic experience. Would your kids be OK after that? Having a gun pulled on them and laid on the ground. Especially a 6 year old."
Naturally police are claiming they did everything by the book and it was a simple typo that led to their stellar officers traumatizing and terrorizing an innocent family.
Interim Chief of Police Vanessa Wilson released a statement to CBS4:
"We have been training our officers that when they contact a suspected stolen car, they should do what is called a high-risk stop. This involves drawing their weapons and ordering all occupants to exit the car and lie prone on the ground. But we must allow our officers to have discretion and to deviate from this process when different scenarios present themselves. I have already directed my team to look at new practices and training. I have called the family to apologize and to offer any help we can provide, especially for the children who may have been traumatized by yesterday's events. I have reached out to our victim advocates so we can offer age-appropriate therapy that the city will cover."
Gilliam's attorney says he will file a federal lawsuit for excessive force.
"I don't want your apology. I want change," she said. "Better protocol, better procedures because the way you did it yesterday was not it."
For now, she may get her wish as the City Council moved to replace the police chief after the video went viral.
As you watch the video below, imagine that this is your family being forced to the ground at gunpoint. Imagine that no amount of innocence and obeying the law could prevent it. Next time someone says, "if you don't break the law, you have nothing to worry about," show them this.