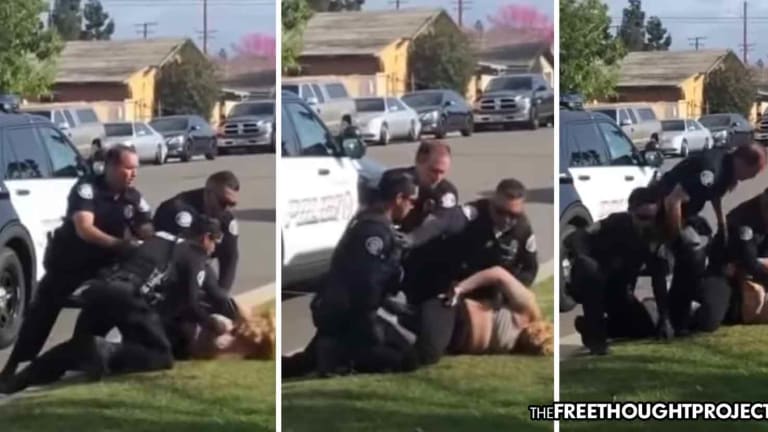 Paradigm Shift? Cops Intervene, Restrain Fellow Cop Who Was Beating Handcuffed Woman
Video appears to show a shift in policing as two cops intervened in an arrest as their fellow cop began beating a handcuffed woman.
Westminster, CA — Since the murder of George Floyd rocked the nation last year, across the country police departments and municipalities have passed legislation requiring cops to intervene if they see their fellow officer — like Derek Chauvin — committing a crime or violating someone's rights.
As TFTP reported last week, former Buffalo Police Officer, Cariol Horne has been fighting for her pension since she was fired after 19 years on the force, over an incident in 2006 when she stopped a fellow officer from choking a handcuffed suspect. For her heroic actions, instead getting rewarded and allowed to retire, Horne was beaten and fired.
However, last week, Horne received her full pension thanks to a shift in the paradigm that used to protect bad cops. Last year, Buffalo Common Council approved three resolutions in the wake of George Floyd's death and the recent protests against police brutality. One of the resolutions enforces the city's "duty to intervene" policy, which mandates that officers intervene if they see another officer using excessive force — effectively justifying Horne's intervention.
Other municipalities have made similar moves, like Chicago's "Bad Apple Act" that makes cops liable for failing to intervene if such a deprivation of rights is occurring in front of them.
Westminster, California is not one of the places with this legislation, but apparently they are practicing for when it comes. Video uploaded to social media this week showed two Westminster cops carrying out their duty to stop a crime when they see it. This time, the crime was being committed by their fellow officer.
A use of force investigation is now underway after two Westminster cops jumped in to stop their fellow woman-beating cop from attacking a handcuffed woman.
According to police, the incident unfolded on Wednesday as officers were called out to a report of an assault and battery. The 911 caller reported that a a female Hispanic adult, Ciomara Garcia, 34, of Westminster, assaulted an Asian woman who had tried to rescue a dog running in the street. However, according to the witness who took the video below, the incident unfolded differently and Garcia did nothing wrong.
As FOX 11 reports:
The witness who took the video, however, told FOX 11 that Garcia walking her dog when a woman on a bicycle was approaching. As the woman on her bicycle got closer, Garcia told the bicyclist to move because she was fearful that the biker would run over her dog.

The witness said the bicyclist "took it the wrong way" and was upset.

The bicyclist left but then returned five minutes later with police officers. The witness alleged that the bicyclist told officers that Garcia hit her.

The witness told FOX 11 that Garcia never hit the bicyclist.
As police investigated the incident, they realized Garcia had a bench warrant for alleged vandalism and they moved to arrest her. During the arrest, they noticed she was possibly under the influence and police called for paramedics.
As they waited for paramedics, however, Garcia — who was in handcuffs — began flailing around, kicking her legs and twisting her body.
Her movements appeared to trigger the Vacaville cop who moves in and begins punching her in the face. As they see their fellow officer begin to attack the handcuffed woman, the two other cops pull him off and restrain him.
This is the type of behavior that people will come to expect from police. Gone are the days when cops will beat handcuffed women as their fellow cops look on and do nothing.
According to the Westminster police department, the officer involved has been suspended and an internal investigation is underway. While this is a good start, the video evidence alone is enough to fire and even charge the officer. He could have even been arrested on the spot.